Just how safe is in-play betting?
On the surface, in-play betting seems like just another part of the gambling industry – but could it be the next source of major controversy for operators? It has become one of the most popular forms of gambling yet campaigners want to see new restrictions, or even an outright ban. So the question needs to be asked – how safe is in-play betting?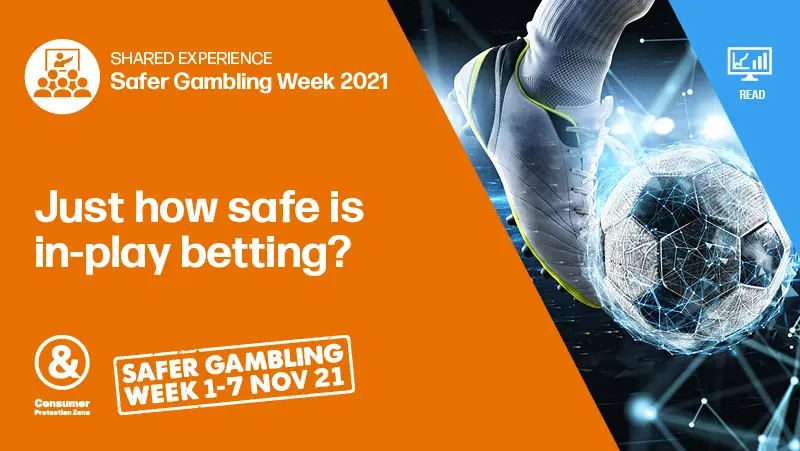 In-play betting has become such an integral part of modern gambling that it's hard to imagine a time when it wasn't present.
For example, at the time of writing, Ladbrokes are offering in-play markets on football, tennis, table tennis, ice hockey, basketball, volleyball and esports. The offering has ballooned beyond next goalscorer and final score markets, and shows no signs of slowing down as it becomes more ingrained in sport-watching culture.
Why is in-play so popular?
The appeal of in-play betting is clear. The ability to place multiple bets in real time, a plethora of variables to wager on, fluctuating odds – it's a constantly evolving product.
Swedish operator Betsson - like many online operators - has reaped the rewards of in-play betting, and the company's product director Joakim Thor says it is the core part of Betsson's betting offering.
"In-play is an integral part of Betsson's sports betting operations," Thor says.
"In all of our major territories, live betting accounts for more than 50% of turnover and in some cases around 70%.
"Live margin tends to be more stable than pre-match margin as there is a higher proportion of singles activity.
"Pre-match margin is expected to be higher on average, although offering more aggressive odds on pre-match compared with live does make this difference quite small," he explains. "Pre-match margins are more volatile due to football combi bets in particular."
Football is unsurprisingly Betsson's most popular sport for in-play betting, given the general popularity of the sport and the sheer volume of variables that come with a 90-minute match. Thor also notes that tennis, volleyball and table tennis are the sports which have the highest ratio of live turnover compared with pre-match turnover - thanks to the popularity of betting point-by-point.
Where does the danger come from?
While on the surface it appears that in-play betting is just an extension of sports betting, campaigners will argue that its best comparisons may be elsewhere. Will Prochaska from gambling harm charity Gambling with Lives believes that in-play betting shares similar traits with online casino games.
"I'd put it alongside online casino slot games in terms of addictiveness due to that speed of play," he says.
"It doesn't have some of the other types of addictive characteristics like 'losses disguised as wins' - tricks the industry uses to keep people gambling even when they're losing and keep people engaged - it's a slightly different product from the absolute worst online slots and casino style games, but it's clearly a very risky product."
Such risk is exacerbated by the popularity of the product, he continues.
Studies of levels of harm between in-play and pre-match betting are hard to come by, but Prochaska argues that high demand, coupled with what he claims to be a popular product for problem gamblers gives the industry an opportunity to mimic online casino style games in a sports context.
Prochaska continues: "You take someone's interest in football which may have traditionally been a bet once a week - which wouldn't have been a particularly addictive activity given the space between each gamble - and you turn it into something that mimics a fast-paced, casino-style game where you can bet every few seconds. Some sports lend themselves better to this than others".
In addition to football - which includes variables such as with throw ins, corners, next goal, cards to name a few - he name checks tennis as another sport where in-play is particularly successful.
"Tennis is a particularly dangerous sport as it has quick points and you can bet per point," he adds.
"You've got a very repetitive and addictive product with in-play tennis betting. It's consistently shown to be a very dangerous product and one which makes the industry an awful lot of money due to its speed of play and the amount of revenue it can generate quickly from an individual gambler because of the opportunities to bet."
The sentiment that in-play betting is an addictive product is one shared by vocal industry critics the All-Party Parliamentary Group (APPG) for Gambling-Related Harm.
The group targets in-play - along with just about everything else offered by the industry - in its 2020 report of recommendations for gambling reform.
It recommended that in-play betting be restricted to in person or over the phone. The over-the-phone model appears to be based on a loophole exploited by Australian operators when more traditional forms of in-play were prohibited. That APPG report also suggested stake limits for all gambling, accompanied by a triennial review with every customer to carry out affordability checks – allowing for deposit limits to be tailored to personal circumstances.
On in-play betting, APPG chair Carolyn Harris MP says: "The dangers of in-play betting are of real concern due to these types of bets providing players with the ability to bet non-stop during sports games, with more and more markets being included by bookmakers during the games.
"This inevitably encourages impulsive betting and has transformed the nature of simply watching a sports game for fun and entertainment."
Can in-play betting be done safely?
However Betsson's analysis contradicts the reformers' claims. In-play hasn't shown anything to suggest that exposure to in-play betting creates more at-risk players.
Thor says: "Whilst it is true that in-play betting has changed significantly over recent years and the pace has increased, our analysis shows that it doesn't pose a higher risk versus many other forms of gambling activity.
"The split of players who we identify to be 'at risk' - both through our manual monitoring and our in-house-built Prediction Tool - over the years has not changed much and remains more or less the same."
The vast majority of those who do participate in in-play betting do so safely according to Betsson. Suggestions for keeping things that way include upholding the integrity of the particular sport, maintaining high levels of responsible gambling monitoring, and being proactive when signs of risk appear.
Prochaska, though, would add affordability checks and stake limits to that list. He asserts that it's down to the industry to prove it is putting products on the market which are safe.
Betsson itself has responsible gambling protocols in place for in-play betting. Risk analysis for customer accounts is driven by a number of factors, including the combination of products being played. Another is the amount of time a player gambles with a Betsson product, and the company is particularly watchful when it comes to in-play betting.
Thor continues: "Customers who keep gambling for extended periods of time or place large volumes of bets, particularly during what might be considered 'anti-social' hours, are on our radar and the team is proactively approaching them in line with best-practice industry processes and procedures.
"Additionally, our automatic interactions pick up this type of activity to alert the players in real time, 24/7, across all devices they may use. As reported in our 2021 Q3 results, Betsson had 74,475 interactions with customers manually, automatically and via real-time messages during the third quarter."
Although operators such as Betsson are demonstrating responsible gaming practices regarding in- play betting, Prochaska believes that the industry as a whole needs to make more of a concerted effort to protect the players.
In-play advertising
The industry is already taking steps to step up its social responsibility standards, including a reduction in advertising. This has seen promotions such as the "In-play with Ray" ads that previously featured the latest odds disappearing from screens. This was facilitated by the Industry Group for Responsible Gambling (IGRG) - a precursor to the Betting and Gaming Council (BGC) - which introduced a whistle-to-whistle ban on gambling advertising in 2019, preventing any advertising during pre-watershed live sport broadcasts.
That has had a clear effect. Gambling ad exposure during live sport reduced by 78%, while the number of gambling ads seen by children dropped by 97%.
Although notable strides have been taken in the right direction, there's still more work to be done. If 10% of 16-17 year olds claim to be influenced by gambling advertising – as a recent Gambling Commission survey suggested – then criticism will still be there.
After all, Prochaska claims gambling "bankrupts its best customers".
Should in-play betting be banned?
With all the concerns surrounding the format, calls to ban in-play betting may grow louder in the future. However, such drastic action may create bigger problems.
The industry has long claimed that players would flock to offshore, unregulated sites offering few safeguards if gambling products are materially altered. The campaigners - and even the Gambling Commission - argue that British controls are so stringent that this offshore threat is overstated.
A PWC report commissioned by the BGC does suggest the black market is a clear and present danger. It claimed that offshore spend had doubled from £1.4bn in 2018 to £2.8bn.
It noted: "Among players who used unlicensed sites, ability to bet large amounts, offering bets or games that others don't, and ability to place live bets were all popular responses."
This suggests there is some credence to the industry's assertion that there would be no shortage of unlicensed operators ready to offer an alternative should in-play betting be banned. Thor alludes to this, arguing that a ban on in-play betting would just drive players towards black market operators.
He says: "Every jurisdiction must look at what legal framework makes sense to them and what verticals they are comfortable including in their regulation.
"But from the perspective that live betting is so established these days, it is highly appreciated by customers, and it constitutes such a large share of total sports betting turnover in many markets, excluding that vertical from the regulation will likely just lead to negative channelisation pushing customers to bet on illegal sites."
Such a view is supported by integrity body the International Betting Integrity Association (IBIA). IBIA CEO Khalid Ali said: "Any ban on in-play markets may serve to encourage consumers (and corrupters) to seek out offshore operators to place in-play bets."
Will consumers be any safer in unregulated markets?
Too popular to stop, yet so popular that any attempts to do so would encourage black market betting. In-play betting has slowly grown into an industry.
The industry seems to recognise the scale of the product on its hands, and is making steps to ensure that in-play betting can be enjoyed safely. However, after successful campaigning against fixed odds betting terminals, the war on gambling advertising wages on. If the industry defers from its path of progress and starts to lose control of the product, in-play betting may find itself in the sights of campaigners next.