Sportsbooks feel the pain in Spain
The gaming industry in Spain has been subject to seismic changes since the start of 2020, as the nation's government and gaming regulator have proposed increasingly tight restrictions on marketing in the sector. Conor Mulheir assesses the industry's reaction to some of the changes introduced, and the possible impact on sportsbook operators.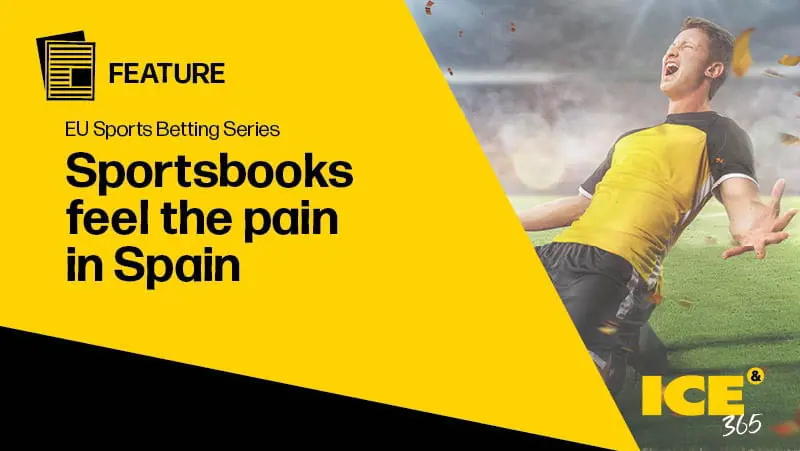 Sportsbook operators in Spain took a beating in 2020 thanks to the combination of the novel coronavirus (Covid-19) pandemic, and the nation's gambling regulator and Ministry for Consumer Affairs clamping down on the industry's main source of customer acquisition and brand recognition.
The number of restrictions announced on marketing for gambling were such that by the end of this year they will result in a de facto ban on gambling advertising across almost all channels.
Though the initial draft regulations published by the Spanish government last February seemed to be less damaging for sports betting than other verticals, by the end of last year it had become clear that there was to be no special treatment for sportsbooks.
The draft regulations proposed that advertising on TV and radio could only take place between 1am and 5am, but with an exception for ads around live sports events. However, the plan for advertising around these to be allowed between 8pm and 5am was removed from the updated draft provided to the European Commission in July.
In addition, the original proposals for stricter regulation of sponsorships became a complete ban on sponsorships, while a €100 bonus limit turned into an outright ban on new player incentives.
The majority of the provisions of the Royal Decree on the Commercial Communications of Gambling Activities, which was passed in November, have not come into force yet, but it's fair to assume they will be hugely damaging for sportsbooks.
A look at what happened to the Spanish igaming market in the second quarter of last year, when the government had introduced temporary advertising bans because of Covid-19, provides a hint of what's to come.
Between April and June, the number of active players was down 29.4% on a quarter-on-quarter basis and 25.3% on a year-on-year basis.
More worryingly, the number of players who registered during the quarter had more than halved since Q1 and was also down 41.5% on the second quarter of the previous year. The number of players who registered in May was the lowest monthly total for more than four years.
Sponsorship hit
Given that the advertising ban will now extend to sponsorships, it will be damaging not only for gambling operators, but also sporting associations. The gambling industry is the biggest sponsor of clubs in Spain's LaLiga, with 35% of the current shirt sponsors in the league active in gaming or betting.
However, in October, Spain's Ministry of Consumer Affairs wrote to all of Spain's top tier football teams advising that any sponsorship agreements already in place must come to an end at the conclusion of the 2020-21 season.
And it's not just the removal of shirt deals that will hurt – according to the European Gaming and Betting Association (EGBA), the sponsorship ban will have a negative impact on 41 out of the 42 teams that make up LaLiga. It comes at a particularly bad time for clubs, which EGBA estimated had already suffered up to €80m in lost advertising revenues as a result of Covid-19.
Meanwhile, land-based operators have faced their own troubles, with restrictions on opening times and their permitted proximity to schools introduced, along with an obligation to display health warnings at the doors of their venues.
At the time of first mooting the changes last January, the government's stated aims were to reinforce the self-awareness of players, encourage healthy consumption of gambling products and prevent the beginning of problematic play.
Further, its overarching goal was to reduce industry advertising to a level "similar to that of tobacco products".
'An ideological law'
The changes may be well-intentioned, but online operator association Jdigital believes the new laws will prove counterproductive.
"The main measures of the Royal Decree that will regulate online gambling advertising have not yet come into force, so we have not been able to see its immediate effects," Jdigital's chief executive Andrea Vota says. "However, we have always emphasised that the main consequence of this regulation is the ban, de facto, of commercial communications of this activity in Spain."
"We are concerned that this prohibition will only lead to an increase in illegal gambling in Spain, leaving users and, especially the most vulnerable groups, unprotected against companies that do not comply with the security and protection measures that the licensed operators we represent do respect."
In July, following Spanish regulator Dirección General de Ordenación del Juego's submission of its new regulations to the European Commission, Jdigital published a response to the proposed changes, expressing "bewilderment" at the stance taken and describing it as "an ideological law, which has no support in data or studies".
In particular, it said there was no official data or studies showing that there was a public health problem related to gambling in Spain. Indeed, even the director general of the nation's regulator, Mikel Arana, appeared to back up this this assertion in February 2021 when he said that gambling was not a health problem for the vast majority of those who gambled in Spain.
As further evidence, a study published in October by the University Carlos III of Madrid (UC3M) found that while 84.9% of the Spanish population participates in some form of gambling activity each year, the country has a problem gambling rate of just 0.3%, one of the lowest rates recorded globally.
Lessons from neighbours
This is not, of course, the first time a European regulator has pushed ahead with an advertising ban that appeared unnecessary. But critics of the new regulations, including Jdigital, have pointed to these previous bans, especially the one in Italy, as examples that Spain's government should not following.
All gambling advertising was banned in Italy in January 2019 and it has been estimated that this has resulted in lost revenues of €100m per year for Italy's Serie A.
Vota believes the moves in Spain will have a similar effect, explaining that Jdigital's response was tailored to "highlight the devastating consequences that the decree will have on other sectors, such as sport clubs or media".
"To get a sense of the losses they can experience," he says, "in 2019 the industry invested €372m in marketing, and the approved restrictions could see sport clubs lose up to €90m in advertising revenues, according to LaLiga."
On a more positive note, Italy could also serve as a blueprint for how operators might find ways to work around the changes. For example, in March this year, LeoVegas announced a new partnership with AS Roma for its sports site venture LeoVegas.News.
As the gambling ad ban does not extend to informational content, this is one way the operator can get its name pitch side without breaking any rules – the LeoVegas.News logo will therefore appear on LEDs during Serie A home matches at the Stadio Olimpico.
Some Italian operators have also done well by leveraging their retail outlets to advertise their online products since the ad ban came into play. A number of retail brands, such as Snai, Eurobet, Goldbet and SKS365, have benefited from having their brands on display on the high street, with many omni-channel brands increasing their online market shares thanks to their retail prominence.
Indeed, Spanish operator Cirsa, owner of the online Sportium brand, hints that it may be planning to follow suit. "Sportium has been working for months to redesign its strategy to adapt to the new post-pandemic and post-Royal Decree scenario," the company tells iGB.
"Our firm commitment to an omnichannel/multichannel model – with a strong presence in all channels – reinforces our position in the new post-Royal Decree scenario."
Certainly the planned regulations will force the industry to get creative when it comes to reaching and retaining customers. This is likely to extend beyond branding, marketing and advertising, and into the products offered and the way operators engage with customers once they are on a brand's website or in its venue.
Sweden perhaps provides an example of what the future may hold in this respect, with operators in that country having had to adapt their offerings significantly since the market reregulated in 2019.
The new licensing model brought with it a restriction on bonusing, with licensed operators now only allowed to offer customers one first-time bonus. By and large, sports betting operators have taken this in their stride, innovating on product and UX to hold on to their customers instead of relying on regular bonuses.
A similar transition from an acquisition-led to a retention-led market model is almost certainly on the cards in Spain. Under the new regulations, Spanish operators can at least offer some bonuses to existing customers, so that should help in their retention efforts.
Sweden also provides a lesson in the dangers posed by overly restrictive regimes, with the country's channelisation failings attracting increasing attention from both operators and policymakers as the number of players using black market sites rises.
In this respect, Jdigital's stark warning that by taking away the rights of licensed operators Spain's government is unwittingly giving the upper hand to unscrupulous operators that hide their operations offshore would appear to be valid.
More changes ahead
Yet the advertising controls appear to be only the first step in the government's ongoing efforts to limit gambling in Spain. In December last year, the Ministry of Consumer Affairs launched a public consultation on a new draft Royal Decree, designed to further increase consumer protection measures in the gambling sector.
Minister Alberto Garzón said the decree would set out standards for action, intervention, control, prevention, awareness raising and treatment for safeguarding players. Bringing the changes into effect would be a key priority for the ministry in 2021, he said.
One of the planned changes could have positive effect on the industry, as there is a plan to integrate Spain's self-exclusion databases. These are currently maintained separately in each of the country's autonomous regions.
The combination of the registers was agreed in September 2020, with regional authorities granted up to a year to complete any technical work necessary to carry out the integration.
Few in the industry would argue against such a move, particularly given the increasing focus on player harm minimisation.
Unfortunately, however, when combined with the ban on advertising by licensed operators, rather than reducing gambling as the government intends, it may simply move activity to the black market.
Arguments to this effect have been made repeatedly by operators across Europe, however, and have mostly fallen on deaf ears. If recent regulatory developments in Italy, Germany and Sweden are anything to go by, Spanish sportsbooks may well have greater hurdles to overcome in the near future.
Letting the courts decide Jdigital is so concerned about the unintended negative consequences of the forthcoming restrictions it has submitted an appeal to the nation's Supreme Court to challenge the regulations.
However, Vota says he does not expect a speedy outcome. "This is a long and difficult process," he says, describing the Royal Decree as "a personal warhorse for [Minister for Consumer Affairs, Alberto] Garzón."
"We will keep defending our arguments and insisting on the fact that the approved regulation is disproportionate, unfair and discriminatory and that the main consequence of this Royal Decree will be, unfortunately, the increase of illegal gambling in Spain," he adds.
Though no decision has yet been published on Jdigital's appeal, the striking down of a separate appeal in March is perhaps not encouraging.
Media association la Asociación de Medios e Información (AMI), which represents a group of 80 national and regional media outlets, requested that the introduction of the law be delayed by four months. It wanted the May 1 implementation date pushed back to allow its members to benefit from key events such as the Euro 2021 and the Olympics.
However, Spain's Supreme Court rejected AMI's appeal and said the validity of the laws could not be questioned for economic reasons or any other reason other than the public interest.