The need to defend esports from rogue players is growing. Hannah Gannagé-Stewart looks at the industry's response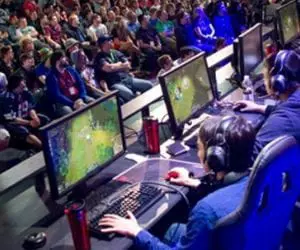 As the esports betting industry gathers momentum the need to defend it from rogue players is also growing. Hannah Gannagé-Stewart looks at how the industry is responding
In October, esports integrity was back in the headlines when Leonid 'Sonic' Kuzmenkov and Dmitri 'Ax.Mo' Morozov were found guilty of match-fixing and banned from Uprise Champions Cup (UCC) tournaments for two years.
Their foul play had been swiftly shut down by the bookies, who were first to report the incident, along with the tournament organisers and the Esports Integrity Coalition (ESIC), which then went on to investigate it in conjunction with Sportradar.
For ESIC, which has been building its membership base of stakeholders across the esports and betting industries, this represented the successful application of an integrity model already applied to the traditional sports betting sector.
Meanwhile, Valve — the publisher of Dota2, the game at the centre of the matchfixing clampdown — does not appear to have been involved at all in the decision to ban the two players.
Last year, Valve found itself at the centre of the skin betting scandal, where sites blurred the lines between virtual and realmoney betting by using the publisher's API for commercial purposes.
Valve issued a raft of cease-and-desist letters calling a halt to the practice on its games and marking itself out as having a low tolerance for shady betting activity, but declined to comment publicly.
Ian Smith, ESIC's founder, told iGaming Business North America that he's yet to see a response from Valve, "but that's not unusual," he says.
"They might take a littlewhile to get their heads round this." Set up to defend esports from match manipulation and betting fraud, ESIC is yet to bring any publishers into the coalition. Smith admits that makes it harder to enforce blanket bans.
"ESIC has been around for about 18 months now. People need to get used to what we do and we need to perform in a way that boosts our credibility," he says."The reality now is that when we conclude any case we always pass the information to the publisher, but we have no say or influence over what they do with it."
Smith's mission is to unite the industry against foul play and in time to convince publishers that they are an important part of the igaming ecosystem and need to be involved.
"It's a big step to ask publishers to hand over responsibility for this stuff to some guy in Bristol to oversee," he says. "A lot of people understand the need to monitor esports but don't have the time to focus on it to get the deal done.
"These guys work insane hours and dealing with hygiene issues [such as cheating and match-fixing] is frankly a pain in the neck. It doesn't add to the bottom line in obvious ways, so they can't make it a priority."
But as the esports industry grows, he says his work in exposing integrity threats has been gaining traction among publishers. Smith says that because esports, betting and gambling are not core to publishers' businesses, convincing them to join the initiative will take multiple conversations over a long period of time.
Although publishers may not have intended for a massive secondary betting market to spring up around their games, as esports gain a level of popularity comparable to traditional sports, the betting market has inevitably followed.
Defending the integrity of their games in light of that development is something that Smith, along with others in the industry, feels cannot and won't be kept on the back burner much longer.
"Every sport has waited for a crisis to deal with it, with the exception of golf, which set up an e-betting programme in the absence of a problem," he says.
"The publishers would be a gigantic help in enabling this kind of self-regulation," he adds. "Everyone has to be working under the same system so that when you put a ban in, it really is a ban, and also you want everyone to understand what the rules are."
He says top esports players are operating under different rules for different tournaments, making it difficult to set universal expectations for conduct.
"It indicates the immaturity of our industry at this stage," he says. "But everyone shares the same problem, and that is the potential for people to defraud the betting situation." Ultimately, this brings the games into disrepute.
Rahul Sood, founder of esports bookmaker and ESIC member Unikrn, says he's in no doubt that the tide is turning in terms of publishers eventually coming on board with an organisation such as ESIC.
"It's absolutely turning. Unikrn started in November 2014, and back then the publishers weren't sure what to make of this gambling space but now they're coming around. It's not as much of a hard sell as it was," he explains.
Echoing Smith's sentiments, Sood adds: "It would be amazing to get the game publishers involved [in ESIC], and some of them are looking at it. I have friends at Microsoft who are interested. I think publishers just aren't sure what to make of it."
Sood unequivocally supports the enforcement of any ban on players who have been found to have manipulated the outcome of games, and highlighted the role bookmakers have in identifying the problem.
"If there's one way to catch a cheater it's through a bookmaker," Sood says, recalling a recent occasion when a Unikrn broadcast team was able to identify cheating and report it to ESIC.
When asked if Unikrn was the bookmaker responsible for flagging September's UCC match-fixing activity, Sood says he's unable to comment. However, he confirms that "we look for betting anomalies, which we can then report to the tournament organisers and ask them to do an investigation."
Not all stakeholders share the view that the publishers need to get more involved. Luke Cotton of Digital Fuel Marketing, who also works as an esports consultant and runs CSGO Betting, an affiliate site focused on esports betting, believes publishers are keeping a watching brief.
Speaking on an esports panel at the Berlin Affiliate Conference in November, he said: "I think the publishers are keeping an eye on this, it's just in the background."
According to Cotton, the level of intervention varies by publisher. "They do take action. They ban players when they catch them, they listen to ESIC and its members, and anyone who flags up anything dodgy to it," he said.
"What is being done at the moment is fine. I don't see people knocking down the doors for more involvement, probably the opposite," he told the assembled affiliate market.
Although Cotton may be sanguine about the level of intervention required in the burgeoning esports market, there's no doubt that as the market grows there is a greater need to defend it from the reputational damage that match-fixing can inflict.
Publishers are just one part of the ecosystem but, as Smith and Sood point out, making them a part of the safeguards against illegitimate betting behaviour can only strengthen the industry as a whole.