Sweden's channelisation challenge
Sweden's sports betting market has faced a number of issues since the market reregulated three years ago, but it is the growing leakage of players into the black market that is causing most concern for operators. Joanne Christie reports.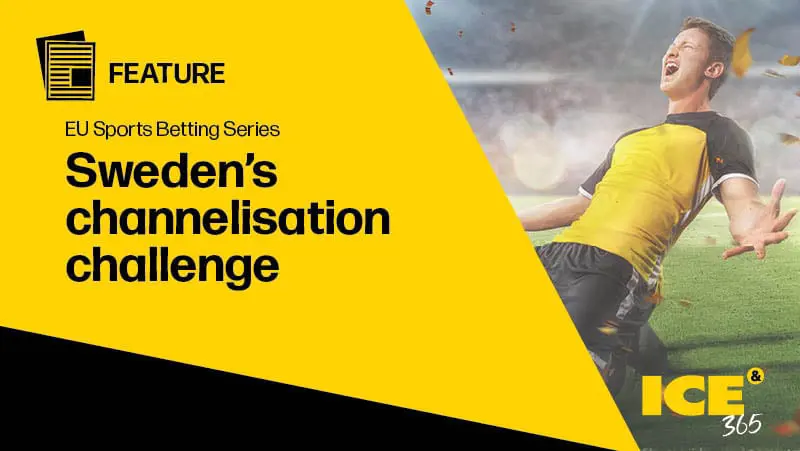 When the Swedish market re-regulated in early 2019, it was generally viewed as a positive development by operators active in Scandinavia's largest online gambling market.
It was clear that moving from a grey to a white market would hit profits for the country's big operators. However, the tax rate of 18% of GGR was considered reasonable and for the listed players in particular, there were clear benefits to legitimising their position in the country.
There were concerns about some of the player protection measures – especially the one-bonus rule – but regulation also presented opportunities, most notably the number of new marketing channels opening up. In addition, the Swedish government seemed committed to a high channelisation rate, with a goal of at least 90%.
Fast forward three years and it's clear things haven't panned out entirely as planned. The combination of the Swedish Gambling Authority's (Spelinspektionen, or SGA) strict enforcement action against licensed operators and the increase in restrictions on what players can bet on has had the effect of increasing the appeal of the black market.
While the various parties involved in the market may argue about the exact percentages, it's generally agreed the market isn't hitting that channelisation target.
Research undertaken by Copenhagen Economics for the Swedish Trade Association for Online Gambling (BOS) early last year estimated the rate of channelisation for sports betting was actually between 80-85%, with online casino estimated at only between 72-78%.
And these estimates came before the government introduced temporary deposit limits in July last year, which likely pushed more players into the black market. While the SEK5,000 (£427) weekly deposit limit only applies to casino, as most of the country's largest operators are active in both verticals, this has still had an impact on sports betting operators.
"The temporary Covid-19 restrictions introduced last year are targeting online casino, but as our sites offer both casino and sport betting, this affects our players' entire 'wallet'," says Christian Polsäter, group sports director at LeoVegas.
However, Hjalmar Ahlberg, an analyst covering the gaming sector at Kepler Cheuvreux, points out there may also have been some upside. "Sports betting operators might actually have benefited from this because they could take in more deposits compared to pure casino operators."
He adds that sportsbooks generally face less competition from black market operators. "Sports betting operators usually either have to have their own sports betting platform to provide the product or they have to use an external product.
"There are not that many suppliers that will supply to a black market operator in terms of sports betting and if they choose to [build their own platform] that is quite a big investment, so there are less options for sports on the black market."
Tightening the screws
The black market competition could increase further though with the implementation of new sports betting restrictions, which came into play in January. In September last year, Spelinspektionen announced that from 1 January, bets on game violations and leagues lower than the top four would be banned for games played in Sweden.
While betting on such markets may not represent a significant part of the market, the move is another negative development, according to Kindred's general manager for Sweden Jonas Daag. "We don't believe this will have a big short-term impact, but when you start to add more restrictions and layers, in parallel with not having control of all the unlicensed operators out there, it is a bad development and it feels like it is going in the wrong direction."
At Betsson, the impact will be felt most at its NordicBets brand, says communications manager Robin Olenius. "We have one brand called NordicBets, which has a profile and branding around the local leagues, so of course it is disappointing that we can't offer these leagues anymore. The brand was launched to have this local knowledge, not to only focus on the Premier League and other big leagues.
"Overall, turnover-wise there is limited effect on us, but we also think it will have a limited effect on match-fixing."
The idea behind the restrictions, which also prohibit bets on the individual performance of players under 18, was to combat match-fixing, but industry insiders say it is unlikely to achieve this goal.
"We feel that the knowledge around match-fixing is too low among regulators, the media and sports authorities. In the lower leagues, you can only bet a couple of hundred SEK, which means it is difficult mathematically to fix a game," says Olenius.
"When we look at the data we don't see problems in the lower leagues, we see them more in the higher profile leagues. But to an untrained eye it seems like a good idea to ban the lower leagues because the football players don't earn that much."
Gustaf Hoffstedt, secretary general of the BOS, points out that the change has had some unintended consequences. "Match-fixing is only illegal in Sweden when it regards licensed sports betting, so if you withdraw any kind of betting from the licensed market you immediately make match-fixing legal on that particular betting type. It was probably not intentioned by the lawmakers, but nevertheless that is the case."
Political pressures
He says the often fraught relationship between gambling operators and the Swedish government poses the biggest challenge for the market. "The Swedish government still doesn't understand that the licensed operators are the clients' best friend and if the government and the licensed operators can cooperate in the combat against match-fixing and the other challenges that gambling and sports face, then we have a beautiful future together.
"But right now the government is picking on the licensed operators and the only stakeholders that benefit from that are the unlicensed operators and those that manipulate matches."
The good news is that he believes there is a growing understanding that the regulated market is underperforming in terms of channelisation and that recent initiatives are the main reason for this. He therefore predicts that further restrictions on sportsbooks are unlikely.
"I believe it is less likely that the SGA will continue with further restrictions. In fact, if it was possible to do it and no one would notice, I believe they would actually like to withdraw the restrictions that they have taken decisions upon, but they can't do that because it would cause too much fuss."
There is, of course, the possibility that some of the measures suggested in the recent report of the Swedish Gambling Market Commission will be implemented, although most of these are likely to affect casino rather than sports.
A reprieve from further clampdowns would surely be welcome given sportsbooks still have the pandemic to contend with.
"We have the big tournaments like the Olympics and upcoming world championships in football and hockey and we don't know whether they will be cancelled due to the pandemic situation. Such outcomes are, of course, just as important as political decisions," says Hoffstedt.
Indeed, sports betting activity dropped off a cliff last year when the first lockdown hit. But bettors were quick to return to the market. "When the Bundesliga returned we saw really crazy interest, people were really longing for betting and football," says Olenius.
Similarly, at sports-heavy affiliate site Better Collective, director of business development and M&A Karl Pugh reports a strong rebound. "We have seen quite the positive impact since sports have returned post-Covid and our annual report and Q4 results show that we have bounced back, if not done better since those restrictions on sport have been relaxed."
But although the vaccine rollout is continuing across Sweden and other countries, there is still a lot of uncertainty about the virus.
"The coronavirus is a very tough one to estimate," says Daag. "What we have seen for quite some time now – nine or 10 months –  is that the professional sports have managed to keep up. We are quite positive in terms of the coming six months when it comes to professional sports, but of course we don't know this virus and no one really knows this virus so we do not have any guarantees and this all highlights the importance of being agile."
Consolidation ahead
The question marks about both coronavirus and the political situation in Sweden are expected by many to lead to further consolidation in the Swedish market.
Interestingly, Ahlberg thinks some of the M&A activity could come from UK operators moving into the Swedish market. "Some of the larger UK players are looking at some of the Nordic names because they have quite small exposure to Sweden, with the exception of bet365.
"It probably makes sense for foreign operators to jump in and grab a piece of the market share. it is an interesting market, especially for global operators that can use their scale to go into a new market. It might not be that expensive for them and they can add revenue and add profits in a market that is still attractive."
Indeed, despite all the travails of the Swedish reregulation, recent figures released by Spelinspektionen showed that the online gaming and betting market rose 8.1% last year to SEK15.16bn (£1.29bn).
It's difficult to get an entirely accurate picture of the Swedish sports betting market as there are no official figures on the split between verticals and most operators do not separate betting revenues  from their other gaming revenues. H2 Gambling Capital has, however, compiled an estimate of both the onshore and offshore Swedish sports betting markets (see box).
As can be seen from the figures, sports betting numbers were down significantly last year. Indeed, market leader and former monopoly Svenska Spel reported an 8% decline in its sports and casino business last year, with revenues falling to SEK1.95bn. In its full-year report, the state-owned operator said it was sport where the business suffered, attributing this largely to the lack of sporting events due to Covid-19.
Given the recent issues in the market, Ahlberg says he expects some players to consider an exit. "From talking to operators and people with knowledge of the industry, they look at the Danish market as an example. They had a higher number of operators when they regulated and then it came down and now there are more like 30 or 40 in Denmark, so that might be an indication of where Sweden could go in the long run."
Polsäter says he already sees evidence of some pullback in the country. "Over 80 operators were given a five-year licence. It will, of course, be interesting to see how many operators reapply for a new licence. But we can see on marketing spends that some operators are not investing in the market and that some of the bigger operators are pulling away from the crowd."
Indeed, Kindred's Daag estimates that the top eight operators in Sweden account for 80% of the market. "For us it is not the smaller licensed operators that are a threat. It is the unlicensed operators that are gaining market shares and growing bigger and bigger."
"We do have a major leakage to the unlicensed operators and it is not an ideal situation, especially when these operators have zero consumer protection.
"It is a bit of a surprise for us as a licensed long-term operator that there is so much slowness from the government and the SGA when it comes to handling the unlicensed operators. We really urge the government and the SGA to speed up this work because it is not sustainable market terms for us as licensed operators."
This is a particularly valid point given the results of a survey carried out by Spelinspektionen released in November found that 95% of respondents didn't know how to check if an operator had a valid licence.
Ultimately, however, whether an operator is licensed or not may not be the key factor in whether a player chooses a particular operator, but rather the offering itself. If more restrictions are piled on the licensed market then it's inevitable the unlicensed market will become more attractive to players.
"In the end it is the customers who choose, so if it is a colour TV on the unlicensed market and a black and white TV on the licensed market, they will choose the unlicensed market," says Olenius.
The re-regulation marketing shift When the rules around the Swedish market's regulatory system first became clear, it was the one-bonus rule many stakeholders railed most against. Rather than incentivising play via regular bonus offers, operators became restricted to offering just one welcome bonus to players. This led to a flurry of activity in the first quarter of 2019 as operators rushed to sign up new players, followed by something of a lull and a tough rest of the year for the licensed market. The impact of the new rule has been particularly pronounced on affiliates. "The one bonus rule has definitely impacted our offering," says Better Collective's Pugh. "From a pure offer perspective, before the regulation we were able to communicate retention offers and create a community around this, but with the regulations and the one bonus rule we are naturally quite limited now in only communicating welcome offers to the users." This has forced the affiliate to adapt its offering, and operators has also had to shift focus. "We have done a lot of work at the product level for sports, and also on the login, customer journey and UX. We have also improved products such as bet builder and cash out. When marketing becomes more restrictive it pushes companies to be better on product and customer care because that becomes more important when you don't have bonuses to use all the time. Over the long term, that is of course a positive thing," says Betsson's Olenius. He adds there were other positives to the regulation. "Since the regulation we have also had the opportunity to communicate on more platforms, allowing us to do marketing in social media channels such as Facebook, Twitter and YouTube. And paid search was also something you couldn't do before. Pre regulation (and in the beginning of Q1 2019) the marketing was concentrated on too few media outlets and people became tired of all the commercials." At Kindred, the regulation also paved the way for its brand Unibet's sponsorship of Sweden's top football leagues, the Allsvenskan and the Superettan. "It is a very big sponsorship for us, which started last year, and we feel really confident that it has brought a lot of great value for us," says Daag.