Albania passes law to ban online gambling
All gaming to be prohibited from December 31 after unanimous vote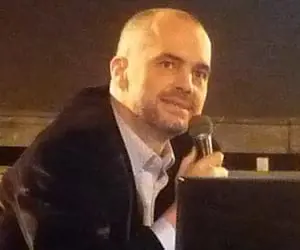 Albania's parliament today (Wednesday) passed laws that will ban online betting and prohibit other forms of gambling from the end of this year.
The ban will come into force from January 1 and comes after a government crusade aimed at tackling addiction, reducing the threat of match fixing in sport and protecting household finances.
The legislation will force the closure of slot machine parlours and betting shops in residential areas. After December 31 gaming operations will be restricted to designated tourist areas, such as a five-star hotel's casino in capital Tirana, as well as on the outskirts of towns and cities.
The national lottery will continue to operate but all online gambling sites will be outlawed, including the only current legal entity, Bastarena, which is part-owned by the brother of Prime Minister Edi Rama (pictured).
Ahead of the vote, which passed unanimously, Rama, a former basketball player, said: "We are waging a frontal war with the evil entrenched deeply in our society over the years."
Rama said a special task force would be set up to shut down any online gambling sites that continue to operate in the country.
"They might keep changing sites, and we'll keep shutting them down," he said.
Representatives of sports betting companies have vowed to fight the ban and seek compensation.
Rama has led a campaign against gambling in Albania since his socialist party swept to power five years ago in a landslide election victory. Within five months of his triumph, some 1,300 betting premises had undergone inspections, with many being closed down due to allegations of financial mismanagement.
There had been hopes of a timely boost for operators in Albania when, in July, the government submitted plans to reduce the tax rate from 15% of gross gaming revenue to 15% of gross earnings. However, President Ilir Meta vetoed the proposal, sending it back to parliament for further consideration.
Albanians reportedly spent €132m on gambling in 2017 – a 10% year-on-year increase – even though, with a population of under three million, Albania's GDP of $12.7bn places it as one of the poorest countries in Europe.
However, a report by the national audit committee said that the state had failed to collect about €395m in fines levied on operators who had failed to fulfil certain regulations between 2014 and 2016.