Macau changes its gaming law, China changes the game
Without VIP junkets, casinos lose their security blanket in challenging times, Muhammad Cohen writes.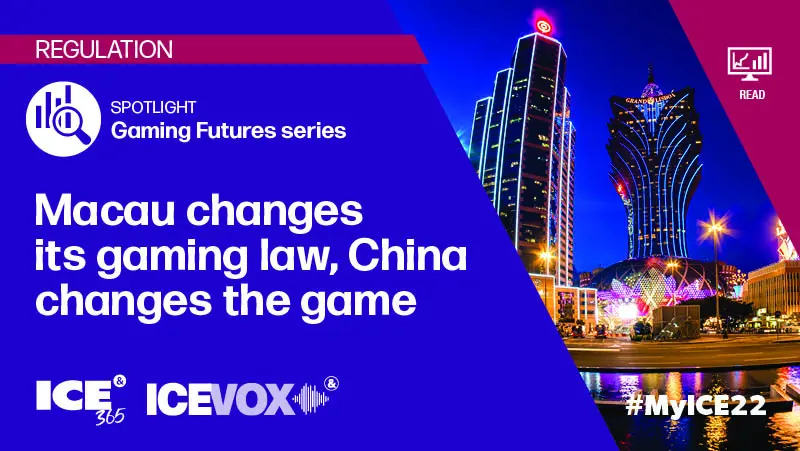 Submission of Macau's proposed gaming law amendments has eased many concerns about the future of the world's leading casino jurisdiction.
The government's draft before Macau legislators drops controversial September discussion points, including government representatives on casino company boards and altering the number of concession holders, that prompted a 25% plunge in casino share prices.
"The gaming law proposal has provided clarity following the uncertainty of these past five months," Platinum Group managing director Mary Mendoza says, noting an immediate rebound in share prices. "It is healthy to see that there will be six concessions."
"More investment and development of non-gaming amenities, together with focus on CSR and social benefits, are emphasised in the bill," The Innovation Group senior vice president Michael Zhu says,  Beijing's mandate for Macau as a world centre for tourism and leisure.
The draft doesn't propose higher taxes or license fees or limiting dividend payouts, instead largely endorsing the regulatory status quo. "The major risk to gaming operators is not regulatory but is nakedly political," Steve Vickers Associates CEO Steve Vickers warns. The corporate risk consultant points to national security provisions in the draft, though those considerations aren't new.
What's new is the mainland driven collapse of Macau's junket segment. Junkets enabled high rollers to flout China's $5,000 limit on foreign currency outflows. Beijing has long asked Macau to change its gaming business; unsatisfied with the progress, Beijing changed it for them.
China's leadership still wants Macau to succeed, but on its terms. Beijing defines success as keeping Macau socially stable with its residents fully employed and its government fully funded. In China's drive for common prosperity, Hong Kong and American billionaires and their shareholders aren't priorities.
"What's the worst that could happen? You're looking at it," Ossolinski Holdings chairman Matthew Ossolinski, who launched Macau Gaming Fund III in October, says assessing 2020-21. "Covid is the black swan event. Borders closed and visitation was slashed. Despite this, casinos are still operating in the black, there's full employment, rich government coffers, and one of the highest per capita GDPs in the world. Macau's economic rainy day would be the envy of most nations in the best of times."
Beijing's global clampdown on overseas and online gaming supports Macau casinos' preeminence, Zhu says. "Additionally, China's zero tolerance on Covid continues to be a constraining factor on outbound tourism, further securing Macau's leading position for mainland Chinese gaming activities."
But those gaming activities won't approach 2019 levels, even after Covid. In 2019, junket VIPs accounted for $11bn of Macau's $36bn gross gaming revenue and $1bn of casinos' $10bn EBITDA, according to 2NT8 Limited managing director Alidad Tash. For casinos' bottom line, one dollar of mass revenue produces four times the EBITDA of junket VIP revenue, Tash calculates. But junkets provided a safety net for casinos, greatly reducing execution risk.
"Macau casinos' CMOs [chief marketing officers] will have to abandon the 'build it and they will come' orientation that has served them so well over the past two decades and follow a focused marketing program to selectively court markets in Southeast Asia and South Asia," GamePlan Consultants founder and CEO Sudhir Kale says.
"The writing has been on the wall for some years now, so it would be highly assumptive to say that large scale operators have not scenario-planned this situation," Professor Leonardo (Don) Dioko, director of the Tourism Research Center at Macao Institute for Tourism Studies (known by Portuguese acronym IFTM) says. "Operators that have taken marginal steps toward broadening their revenue streams must now go into overdrive."
"You're just going to have to reshape the way you earn revenue, the way you make your profits," Kevin Clayton, former CMO for Galaxy and Sands China in Macau, says.
"One unknown is the level of credit extended by junkets to premium mass table and slot players from China in Macau," Clayton, now a board adviser and gaming consultant with Megabrands Asia, adds. "Any loss of premium mass play will hit operators hard, with more than 40 additional lower mass players required to contribute anything like the same revenues and EBITDA."
"There is a strong likelihood that the government won't stop now and will make it harder for premium mass and premium direct to bring large amounts of money from China," Tash, previously a gaming executive with Sands China and Melco, believes.
He calls the gaming law proposal authorising junket promoters limited to a single casino operator a "head scratcher." More fundamentally, it's difficult to imagine junket agents recruiting players in mainland China anytime soon.
In addition to seeking customers for mass gaming and non-gaming attractions such as retail, F&B and entertainment, Dutch Harbor Group chairman and CEO David Leppo suggests Macau embrace sports betting at casinos and online gaming.
"When Covid hit three years ago, it forced retail operators, including [Leppo's own] FootballBet.com, to reassess how they generated GGR, and most have realised that offering online platforms are a must, and exponentially cheaper and more profitable moving forward." He says governments embracing online gaming will "profit hugely" in terms of tax revenue.
Macau's government drew more than US$11 billion from its $66bn financial reserves to fill 2020 and 2021 budget gaps as Covid ravaged gaming revenue. Lost junket play presents a permanent challenge. "The government will be impacted three times as much as casino operators, since junkets generated 30% of gaming tax revenue versus 10% of casinos' EBITDA," Tash says.
But Macau has fiscal flexibility. Carlos Siu, associate professor at Macau Polytechnic Institute's Center for Gaming and Tourism Studies, estimates that, with its 35% gaming tax rate plus other current levies and fees, Macau could fully fund its 2022 budget of MOP99.4bn (£9.2bn/€11.0bn/$12.4bn) with GGR of $20bn, 44% below 2019. And Siu believes the government can be solvent on even lower GGR.
Those estimates underscore the urgency for Macau casinos to change their business model in an environment where authorities won't do them many favours.
Former US diplomat Muhammad Cohen has covered the casino business in Asia since 2006, most recently for Forbes and Inside Asian Gaming, and wrote Hong Kong On Air, a novel set during the 1997 handover about TV news, love, betrayal, high finance and cheap lingerie.