Las Vegas: A Tale of Two Companies
Genting arrives in Sin City from Malaysia while Sheldon Adelson's Las Vegas Sands successors exit for Asia.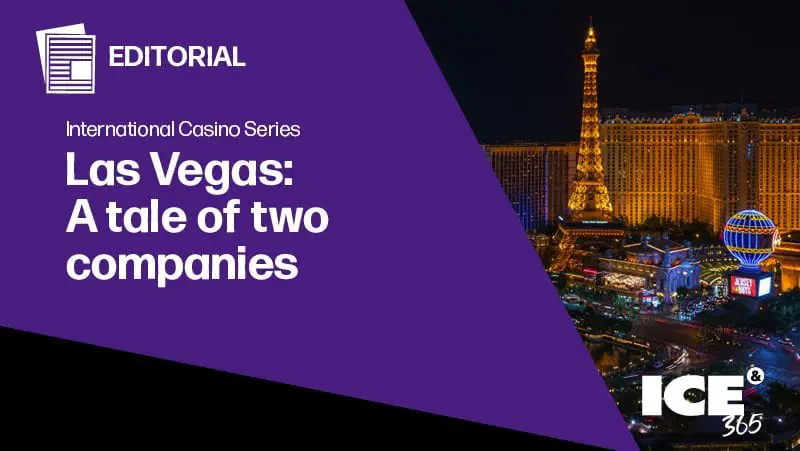 by Muhammad Cohen
Malaysia's Genting Group spent US$4.3bn to bring its Resorts World brand to the Las Vegas Strip.
Meanwhile, Genting's Singapore rival Las Vegas Sands is ditching the Strip, selling the Venetian, where LVS founder Sheldon Adelson changed the course of casino history, for US$6.25bn to focus on Asia. Both companies may be right.
"Las Vegas makes sense for a group like Genting, which also has large developments in the US and is looking to expand its footprint," Global Market Advisors managing partner Steve Gallaway says. "However for an Asian focused company, such as Melco or Galaxy, and now LVS, I question the benefit of paying the high cost of owning and operating a Las Vegas Strip asset."
RW Las Vegas president Scott Sibella says: "Our goal is to bring more awareness of the Genting and Resorts World brands to the domestic consumer, and ultimately help this prestigious company become a household name in the US market."
Opened 24 June as the Strip's first all-new casino resort since 2010, RWLV features 3,500 guest rooms under three Hilton brands including Genting's signature Crockford's marque, "authentic" Asian street food and a theater where Celine Dion, Carrie Underwood, Katy Perry and Luke Bryan are set to perform.
Begun as a hilltop casino hotel outside Malaysian capital Kuala Lumpur, Genting operates New York City's only casino – machines only – full service RW Catskills 150 kilometers north, and is developing a new slot parlor between them.
Beyond New York, Genting owns land for a Miami integrated resort, so far thwarted by Disney and the Seminole Tribe behind Hard Rock, plus a casino hotel in the Bahamas, multiple UK casinos including Resorts World Birmingham, and Resorts World Manila, the Philippines' first integrated resort.
Genting's cruise business, devastated by Covid, suspended payments last year on US$3.4bn of debt some backed personally by Genting chairman Lim Kok Thay, son of founder Lim Goh Tong and father of heir apparent Lim Keong Hui. Nevertheless, Genting finished RWLV, following its corporate DNA.
"Malaysia is a Muslim majority country that has always cast a wary eye on gaming," Maybank Investment Bank associate research director Samuel Yin Shao Yang says. "Genting has always sought to diversify this risk by expanding overseas." Thirty years ago, Genting loans enabled the Mashantucket Pequot Tribal Nation to expand its bingo hall between New York and Boston into Foxwoods casino, both sides profiting handsomely.
While developing RW Las Vegas, Genting exited Asia opportunities, even though "[Las Vegas gaming revenue] growth rates are meaningfully below growth rates in Asian markets and returns on investment in Las Vegas aren't great," AM Steinberg Advisors CEO Adam Steinberg says.
Genting exited plans for foreigner-only casinos in central Vietnam, opened as Hoiana by Chow Tai Fook and Macau junket promoter Suncity Group, and Korea, now Landing International's Jeju Shinhwa World. Korea and Vietnam remain marginal opportunities without expanded local play most experts deem unlikely.
Originally a partner in what's now Crown Perth, Genting sold its shares in Star Entertainment, Australia's number two casino operator. Genting also reduced a Macau hotel partnership, a long shot play for a Macau casino license. In Manila, Genting balked at expanding in Asia's fastest growing pre-Covid gaming market, so its Philippine partner Alliance Global Group enlisted Suncity for an Entertainment City casino.
Genting remains a contender for an IR license in Japan, where gaming regulations amplify Singapore's fastidious model. "Since Genting operates in Singapore, it has insight into the impact that entrance fees and other restrictions can have on operations," Strategic Market Advisors managing director Matthew Landry says. But Japan's delays and demands make it Asia's "least dirty tee-shirt in the laundry," one executive says.
Still Las Vegas Sands has chosen to focus on Asia, which produced 90% of its US$5.4bn EBITDA in 2019. LVS chairman and CEO Rob Goldstein's Venetian sale written statement said: "Asia remains the backbone of this company and our developments in Macao and Singapore are the center of our attention."
"LVS has invested an incredible amount of money in Macau," resort architect Paul Steelman says, an estimated US$15 billion. "It must be one of the largest private investments in the world."
LVS is currently investing more, remaking Sands Cotai Cetral as Londoner – between Venetian and Parisian – and adding a fourth tower and arena to Singapore's Marina Bay Sands. With those additions, LVS "will be much better placed with the mass customer," Weststar Architects International managing director Paul Heratakis says.
"LVS is more valuable now, especially with $6.25bn more in cash in the bank" to deploy anywhere, Euro-Asia Consulting president and CEO Steve Karoul says.
The Venetian sale includes the shell of St Regis Residences, construction halted in 2008. "If the Las Vegas market is so great, why was this project never completed?" Klebanow Consulting principal Andrew Klebanow asks. "One must understand Las Vegas is a very mature, slow growth market."
Accounting for two-thirds of LVS Asia EBITDA, Macau is a gamble since casino concessions expire next year. "LVS is clearly taking a risk so close to the end of the concession period," Hong Kong based risk consultant Steve Vickers says. "However, the Macau government will be mindful of the impact on property values and broader confidence that any abrupt decision might have. That risk may well pay off."
"I'm afraid that gaming and IR development and operations will be increasingly politicized in the greater APAC region and beyond, especially in markets that rely heavily on China as a key feeder," The Innovation Group Senior Vice President Michael Zhu says.
Geopolitics plus potential concession revisions could lead LVS to reduce its 70% share of Sands China, the Hong Kong listed entity holding its Macau properties. Sands China may even be compelled to bring in a strategic partner, a scenario simplified without Nevada regulators' oversight.
That doesn't look like a future Sheldon Adelson or his heirs would welcome. LVS could have more cards to play.
Former US diplomat Muhammad Cohen has covered the casino business in Asia since 2006, most recently for Forbes and Inside Asian Gaming, and wrote Hong Kong On Air, a novel set during the 1997 handover about TV news, love, betrayal, high finance and cheap lingerie.