ICE365 Macau report: Resumption or renewal in a post-Covid world
Macau has become firmly established as the foremost gambling destination, supported by strong demand from the Chinese market. However in 2020, as Covid-19 hit, it faced unprecedented challenges.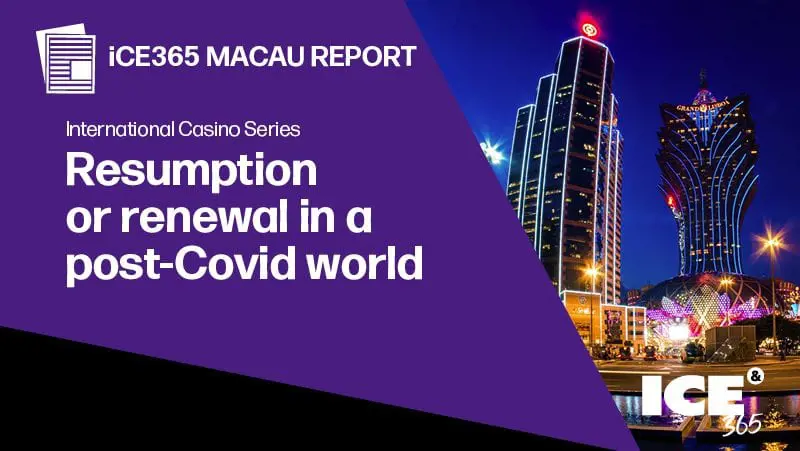 This is an extract of the ICE365 Macau report, Clarion Gaming's first in-depth analysis of the Special Administrative Region, supported by insights and contributions from local experts. Scroll down to read the full report, or to download your free copy.
The Special Administrative Region (SAR) of Macau covers around 32.9 square kilometres of land, and is home to approximately 680,000 inhabitants. Gambling has been permitted in the territory since 1849, while it was under Portuguese rule, but it only began to emerge as a key gambling destination from 1962 onwards, once Sociedade de Turismo e Diversões de Macau (STDM) was granted a monopoly.
This heralded an influx of traffic from Hong Kong, among other places. But it was not until 2002, when SDTM's monopoly ended and the likes of Las Vegas Sands, Wynn Resorts and MGM Resorts International moved in, that Macau began to surpass Las Vegas as the world's leading gambling destination.
It was 2007 when Macau's gaming revenue first surpassed that of Las Vegas, and the gulf between the two locations has grown ever since. By 2019, Macau's revenue stood at MOP292.46bn (£25.82bn/€30.08bn/$36.60bn). In the same year, Nevada and Las Vegas reported gaming revenue of $12.03bn.
The two locations are very different. In Vegas, gambling is complemented by a host of other amenities and entertainment options, to the point that gaming is only one of a number of revenue streams. Research by the University of Nevada Las Vegas suggested that gaming made up 34.4% of Las Vegas Strip revenue in 2019.
Macau, on the other hand, is dominated by gaming. The industry accounted for 50.9% of Macau's gross domestic profit in 2019 and within that, non-gaming revenue totalled MOP33.74bn, or 10.4% of total industry revenue.
So when its casinos were forced to shut, and travel from the Chinese mainland restricted until September last year, it had a huge impact. Revenue was down 79.3% to MOP60.44bn ($7.56bn) in 2020 as a result, meaning that Nevada, with full-year gaming revenue of $7.87bn, actually surpassed Macau.
Unlike Nevada, which posted its first monthly total of more than $1bn in April this year, Macau's recovery from the pandemic has been slower. Yet confidence in Macau's long-term prospects does appear to be significantly higher. Its licensees have a solid financial footing, properties are not having to rapidly hire new staff, and it has a huge Chinese market just a ferry ride away.
That being said, its dependence on gaming remains a potential problem. Last April the SAR's chief executive Ho Iat Seng warned that the shutdown caused by Covid-19 highlighted Macau's over-dependence on gambling.
"With the outbreak of the novel coronavirus, the gaming and tourism industries registered significant declines, with profound impact on industries connected to these areas," Ho said. "This demonstrates, once again, the vulnerability and the enormous risks of the Macau economy's excessive dependence on gaming and tourism industries.
"The healthy and stable development of the gambling and tourism sector will continue for a certain period of time, and will be the basis of the continued stability of the economy of Macau. Nevertheless, if the monolithism of the industrial structure remains unchanged, it will inhibit the sustainable development of Macao's economy."
Operators' gaming concessions are due to expire in 2022. Potential updates on how Ho's administration plans to tackle the renewal process may even come this year.
This means the onus is on the industry to show how it will look to diversify and expand the range of services and products it offers both today, and for the future. Anything approaching a Vegas-style revenue split seems to be more of a pipe dream, however.
The following report aims to cover all of these elements in detail, explaining why Macau has developed into such a key industry hub. It will explore who visits and how it will develop in future. My thanks to Alidad Tash, Chris Wieners and Annie Siara for their valuable contributions.