Gary Loveman on Total Rewards and creating a new breed of executive
Gary Loveman's tenure at Harrah's (now Caesars) Entertainment Corporation saw the operator take a new approach to player loyalty, recruitment and even employee wellness. He speaks to ICE365 editor Robin Harrison about a period that saw him prove a new approach to engaging and retaining players was possible.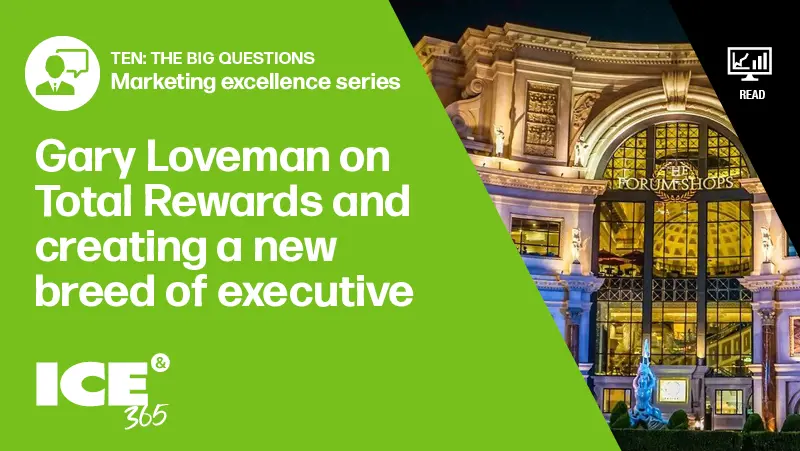 Between 1998 and 2017, Gary Loveman brought in significant changes to Harrah's (now Caesars) Entertainment, causing a ripple effect that has spread to many of its competitors.
As a Harvard professor coming into a sector where executives had traditionally worked their way up the ladder, he arrived with new theories and approaches that helped the operator re-establish itself as a market leader, and trailblazer, in the US industry.
Even today, Caesars Rewards, the data-driven approach to customer tracking and behavioural interventions he pioneered, remains the gold standard for industry loyalty programmes. In a two-part interview with ICE365 editor Robin Harrison, Loveman discusses his tenure at the company, and the evolution of both Caesars and the wider industry, in the following years.
Part one sees Loveman explaining how the programme originally known as Total Gold, then Total Rewards, was developed, and how looking outside the industry helped form a new breed of executives that occupy prominent roles across the sector today.
In an industry that loves a possibly apocryphal tale, the one about Gary Loveman becoming chief operating officer of what was then Harrah's Entertainment holds up to retelling.
While teaching at Harvard, Loveman came into contact with the operator through an educational programme it ran for management and started consulting for then chief executive Phil Satre. By the late '90s, the business was struggling amid a flurry of competing properties opening in core markets.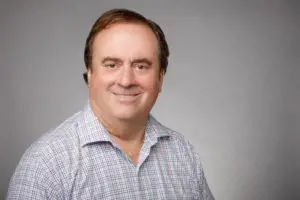 "I wrote this unsolicited letter [to Satre] based on my reflections on what we had been doing together," Loveman recounts. "I said there was a different approach to [running] the business that would adopt principles in use in other industries, that might be productively applied to the casino business."
Loveman's hypothesis was that at the time, casino operators failed to take into account one crucial factor when competing with one another. Rather than focusing on the customer and chasing any sort of insight into what motivated him or her to go to one property over another, all their energies were instead concentrated on the property itself and its amenities.
"The games were all the same, so it was really around the 'box' – the restaurants, the quality of the interiors and so on," he says. "That was a contest that we were not going to win, at least not in the near term.
"So I introduced the notion that we should compete instead through the intimacy with which we knew our customers and how we could create experiences based on what we had learned they were interested in having, and that became the basis for the Total Rewards, analytics-driven strategy."
Some chief executives would have ignored the letter. Others may have taken on board the comments and set their team to work. Satre offered Loveman the position of chief operating officer.
"That was intended to just be for two years, that then grew into the rest of the story."
Untapped resources
In 1998, just as they do today, Loveman explains, customers had easy access to alternative providers when it comes to gambling. The level of data, based on the number of services brick-and-mortar facilities offer, makes their behaviour trackable.
"You see customers very frequently and you serve them across a wide range of dimensions," he says. "Food and beverage, gaming, lodging, parking their car, spa, retail and so on.
"So it was an ideal setting to see if the ideas I had been working on for a long time at Harvard were going to really make a difference in the performance of the companies."
Insights into competitor performance and volumes are also readily on hand. As a highly regulated industry comprising a number of listed entities, figures are available on game performance and visitation on a monthly, if not weekly basis.
All this informed the development of Total Rewards, on which work began in April 1998. This was supported by a colleague Loveman had first met at the University of Chicago, Richard Mirman, who collaborated on a project to build out the systems needed to test Loveman's theories.
Under the leadership of Loveman and Mirman, the team was tasked with building and refining the customer database to ensure they had the relevant information and then developing the offers for each customer segment, based on past preferences. They also had to devise suitable test and control methodology to allow the effects of the marketing interventions on customer behaviour to be measured.
This then had to be supported by a scorecard to allow the team to mark its work against what was happening with players not targeted with interventions, while all the marketing materials also had to be created.
The project was undertaken by Mirman and his "propeller heads" (as Loveman once called them in an investor presentation), who included David Norton, vice president of loyalty marketing, and Dave Kowal, vice president of loyalty capabilities and revenue management. Their efforts resulted in a test launch in December 1998, in Tunica, Mississippi.
"Within a short period of time we were able to see the benefit in terms of increased visitation and length of stay among the customers that received the marketing materials we had come up with to demonstrate this was beneficial," Loveman says.
He admits it was something of a stealth project, for which they "made no effort to appeal to investors".
"We started very quietly and just among a few of us," he says. "The bigger challenge was among management – the existing management that had built their careers around the existing model.
"We spent a lot of time teaching about why we are doing it, how does this work, how do we know it's going to work, how do we prove it's working, and convincing people that this idea had merit."
Ultimately the results were so convincing that over a period of months in 1999, there was significant buy-in across the team. It's not hard to see why; the "propeller heads" had developed quantitative models to accurately predict customer worth.
An analysis of data meant that a customer previously dismissed as probably having little worth, based on a single visit, could now be reevaluated as likely being a regular customer of a competitor. Armed with this insight, they could then be targeted by offers, to convert them into a Harrah's customer.
Previously operators had only used observed play to calculate the customer worth, but by using this quantitative model, Harrah's could then target customers based on their future value, rather than past behaviour.
In the first quarter of 2021, the programme was valued as a $523m asset, and prior to the operator's reverse takeover by Eldorado Resorts, which saw that business' loyalty programme combined, had more than 60 million members on its database.
The core principles that underpinned the programme were even applied to improve employee health through so-called Wellness Rewards. This emerged from one of Loveman's first duties as chief operating officer, taking charge of the healthcare plan provided to staff.
"One of the things I observed very quickly was we had a workforce that struggled to take care of its health," he says. "[Our employees] had a relatively high level of ill health and high healthcare costs."
He says staff did not take steps to monitor their health, nor to prevent or manage chronic illness. "The paradox struck me very quickly: why are consumers so effective at maximising their experience on things like Las Vegas, liquor, automobiles or travel, at the same time having such difficulties when it comes to taking care of themselves and their families?
"I began working on that at Caesars immediately. We introduced Wellness Rewards, which was an application of the same concept that we had on the customer side for employee health."
The new breed
To bring new processes and concepts into existence, and to make them a success, Loveman needed a new breed of industry executive. In establishing Total Rewards, Caesars "really led the industry" in recruiting a different type of talent, he says.
Rather than executives that had worked their way into corporate roles, there was a focus on bringing in talent from other industries, from places such as McKinsey, Goldman Sachs and Capital One.
The founding team were not traditional gambling executives. Mirman, for example, was a "maths whizz" from the University of Chicago. Norton, who progressed to the chief marketing officer role, came from banking. Loveman, of course, came from Harvard. Those executives, as well as many of the executives brought in under Loveman's tenure, have since left, but they have stayed in the casino sector.
"If you look across [the industry], my former CFO [Jonathan Halkyard] is now CFO of MGM Resorts," he points out. "One of my best operators [Marilyn Spiegel] runs Wynn Resorts in Las Vegas.
Arguably the most successful is Jay Snowden, chief executive of Penn National Gaming, who Loveman describes as "an outstanding young executive".
"He was brought up under this way of thinking, and he's now recruited a first-rate team of people to work with him, who are steeped in this tradition.
"Even in smaller cases the people who were with me for most of those years are now running other businesses, so they have picked it up, and it's also moving in a meaningful way into the sports and online wagering business as well."
Creating this 'new breed' of industry executives is one of the things Loveman professes to holding dearest about his experience at Caesars.
Even those who have left the industry are now doing "path-breaking work" in other sectors – even dating. Former executive vice president and chief commercial officer, then chief marketing officer Tariq Shaukat serves as president of Bumble.
Still ahead, but only just
But in 2021, while what is now called Caesars Rewards remains the gold standard of industry loyalty programmes, Loveman says it has "atrophied a little bit". After all, in 2015, when the business filed for bankruptcy – more on this in part two of this piece – Total Rewards was valued at $1bn by creditors.
"It's still the leader, it's certainly the biggest, and it's still an essential asset," Loveman says. "But the programme is fundamentally a function of the quality of the people who are there to build it and administer it."
And of course, competitors have attempted to pick up a lot of the same concepts, he points out. MGM Resorts has done so with M Life Rewards, while Wynn Resorts launched Wynn Rewards, underpinned by the same concept, in December last year. "[The] people behind that were very much part of my old operation," Loveman points out.
However, he adds that Caesars' unique advantage is that it has the largest network across which it can generate customer visits and target players in different markets. Wynn, with three properties in two markets – Las Vegas and Massachusetts – in the US, and a trio in Macau, doesn't have that reach.
That ability to shift players from one property or market to another, and for all venues to work as a component of a larger being, was key to the success of Total Rewards, he points out.
"In the casino business that's been a very tough idea to get across, that the goal isn't just to make as much money as you can in your shop, but to move customers around and visit all the properties.
"I don't really know how well the others have done there," he says. "I think Penn has made progress, as has MGM, but that's a key feature of the Caesars benefit."
Gary Loveman picture credit: Russ Campbell
Next week, part two of ICE365's interview with Gary Loveman will cover the 2015 restructuring, as well as his thoughts on the wave of betting and igaming expansion that has been sweeping the US in 2021.
Join us

Next Wednesday 27 October to learn more about player retention and extending LPVs in the post-pandemic world in our Marketing Excellence series webinar in partnership with Enteractive.