Marina Bay Sands presses its bet on Singapore as recovery ramps
Chief operating officer Paul Town sees iconic Las Vegas Sands property Marina Bay Sands and city-state pursuing common goals, in this exclusive interview with Muhammad Cohen.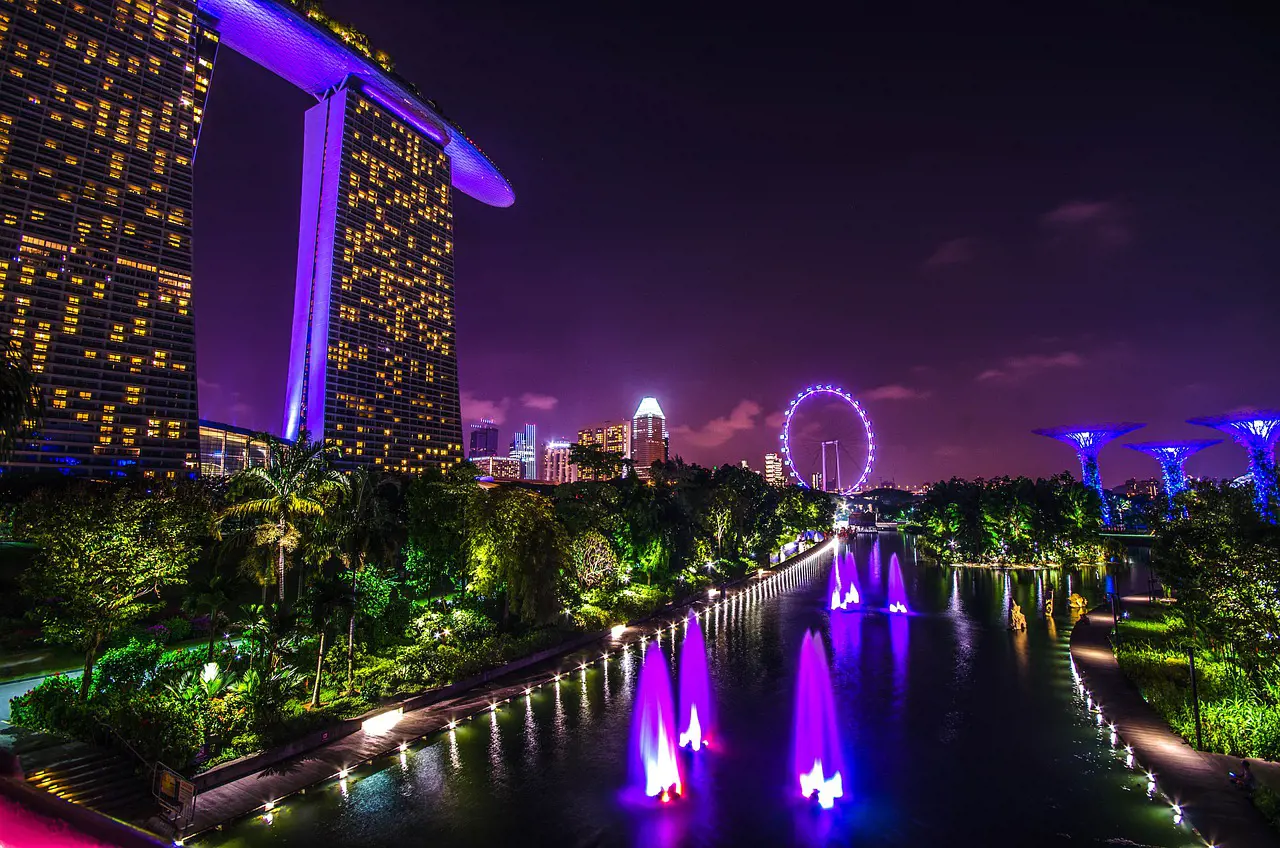 The view from the top of the global integrated resort business is bright, with revenue rebounding and renewed growth on the horizon. That's how Marina Bay Sands chief operating officer Paul Town sees it from a newly renovated suite in the widely envied 55-storey triple towers overlooking Singapore.
"We're definitely seeing a very strong recovery. The hotel is full most days, restaurants are busy, really every touch point of the property. We're seeing customers returned to engage in entertainment, we're starting to get our first shows in the theatre. So it's been great," Town tells ICE365 in an exclusive interview. "We're benefiting from Singapore and the government taking a very progressive and measured approach through Covid."
Amid a regional trend, Singapore authorities have moved to crimp the (pre-Covid) industry-leading profits at Marina Bay Sands (MBS).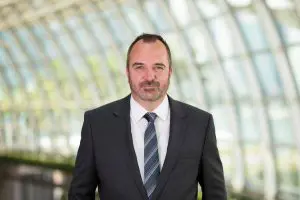 Nevertheless, owner Las Vegas Sands is pumping more than $4bn (£3.7bn/€4.1bn) into the 12-year-old symbol of modern Singapore, including $1bn added early this year. Town, who spent much of his formative years in Singapore, finds a shared sense of purpose between the integrated resort, government and broader community.
That wouldn't matter so much if recovery wasn't so evident across the $5.6bn IR's gaming floor, 2,200 hotel rooms, 800,000 square foot luxury mall – dubbed "Rodeo Drive on steroids" by first-time visitor David Leppo, chairman of Footballbet.com – and rooftop infinity pool seen in the film Crazy Rich Asians and thousands of social media posts.
"We're now at a point where our customers and source markets have a very positive view on visiting Singapore. They see it as very safe. And they see our property is, from an IR perspective, in the world's top area at the moment, with other areas a little bit more restricted," says Town, who joined MBS in October 2019 as senior vice president of resort operations and became COO in June 2021 under managing director George Tanasijevich.
Town's casino resort experience includes Crown in Melbourne and eight years in Macau split between Melco, while it was partnered with Crown, and Galaxy.
Near Match
Marina Bay Sands' second quarter results walk Town's talk. Revenue reached $679m, $500m from gaming, with EBITDA of $319m. That nearly duplicates 2019's second quarter numbers of $688m, $468m and $346m respectively. April-June 2022 hotel occupancy reached 93.9%, lagging 2019's 97.2%.
MBS reached those numbers while Singapore's 2.96 million visitor arrivals through August were just over a quarter of 2019 numbers and airlift remains short of pre-pandemic levels, though both deficits are narrowing.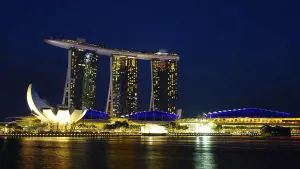 Town dates the start of the Marina Bay Sands' recovery to the fourth quarter of last year. "But the switch really got flipped in April-May this year when the last truly restrictive conditions got lifted." Border controls eased as Singapore dropped testing and quarantine requirements for vaccinated visitors and granted entry to unvaccinated visitors presenting negative Covid test results. In late August, Singapore scrapped most remaining mask requirements, and it doesn't require visitors add a monitoring app to phones.
While arrival numbers are rising, "there's a significant change in the mix," Town says. The greater China market has been greatly diminished: from 2.8 million arrivals, representing 25% of Singapore visitors through to July 2019, the figure for this year is 297,000.
Pre-pandemic, greater China provided an estimated quarter to one-third of business at MBS, with roughly similar proportions from the local and surrounding southeast Asia markets.
"If we look at the region, Indonesia and Malaysia in particular have very heavy visitation to Singapore at the moment, and we're definitely benefiting from that. When you look at those countries, they did have a lot of pandemic access to their own domestic travel, but Singapore has always been a favourite destination for people from Jakarta, Johor, Kuala Lumpur and so on."
Town acknowledges growing competition for the southeast Asia market amid IR development across the region, including potential new destinations Japan and Thailand. "I see that as a positive thing because more customers engaging in the IR experience all around the world is something that's going to help us as well."
Local champion
The pandemic underscored the Singapore market's vital role in the success of Marina Bay Sands. In the second quarter of 2021, before inbound travel opened meaningfully but with local restrictions eased, MBS revenue reached $327m, 48% of 2019 revenue, including casino revenue of $223m mirroring that proportion, despite the S$150 ($104/€109) daily/S$3,000 annual casino entry tax levied on Singapore citizens and permanent residents for each gaming venue, and strict prohibition of gambling promotion.
Singapore's other integrated resort, Genting Group's Resorts World Sentosa, which recently hired former MBS and Las Vegas Sands chief casino officer Andrew MacDonald as it tries to close its long-running revenue gap with MBS, declined to participate in this coverage.
"The local market has always been very, very important to us," Town says. "But as you know, it was always the position of this property to be a strong tourism destination, as opposed to a local destination. But one thing the pandemic did is it allowed a lot of locals to really rediscover us, particularly things like the mall and shopping and entertainment with food and beverage.
"Even though the Singaporeans now can travel – the Singaporeans are great travellers, they're a big outbound tourism market – we have retained that activity.
"Forgetting about geography or source markets for a moment, looking at behaviour and how that has changed, we're seeing some propensity for a little bit of a longer stay. [There] might be a little bit of pent up demand: 'Finally we can get away let's go for a longer time'. We're definitely seeing a propensity to engage in more lifestyle activities, including retail, F&B, shows and clubs, along with a flight to quality.
"We're very much emboldened by the fact that we do see this significant pivot towards lifestyle experiences from our key source markets. So it's no longer this almost transactional-type market where they're just buying individual pieces of an experience. [They've decided,] 'I want to come here and have a holistic, uplifting experience,' and that's what we're really trying to create here."
Town notes "very, very high demand for premium outlets" in both retail and F&B.
"As the stay lengthens, there's a little bit more off-property activity as well," he adds. For example, MBS connects by walkway to Gardens by the Bay, featuring free and ticketed botanical attractions and a Singapore signature hawker food centre dubbed Satay by the Bay. However guests spend their extra time in the city, Town says, "We see it as a positive because we get to engage with the customers for longer. They get to hit a lot more touch points."
Global precedent
About a year ago, Town and other company executives visited the US, Europe and Australia, observing those recoveries to inform planning for Singapore's reopening. Town says the group was "amazed" with customer activity in those markets, speculating whether recovery at MBS would be slower and more conservative.
"That wasn't the case. Absolutely as soon as that switch got flipped in April-May, it was very, very active very, very quickly. And now that we are six months from that, it hasn't really tailed off. It's still very, very strong."
Recovery in meetings, incentives, conventions and exhibitions has lagged in what remains Asia's premier MICE driven IR. In response to the pandemic, MBS developed a virtual MICE offering featuring a hybrid broadcast studio utilising hologram technology – "It's not like a Zoom call," Town assures – and monetised it with products, including lunch meetings with MBS catering for remote attendees.
"We played with some fun ideas, and it was great to help us through the pandemic, but we're very happy to see people back face to face," Town says, adding that virtual MICE isn't as profitable as the traditional variety. The live business is slowly reviving with a mix of pre-pandemic and newly booked events reanimating in the 1.3 million square foot Sands Expo and Convention Centre.
"The Singapore government continues to be very supportive of the MICE model. Talking with us about the future of MICE, the kind of investments and support put behind it is very, very strong. And we're absolutely seeing demand," Town says.
"In a nutshell we're positive. We think there's still more growth to come. Obviously, not all markets are activated yet but we're very positive about the next 12 months."
Room at the top
Underlining that optimism, MBS embarked on a $1bn upgrade, announced in February, to burnish its luxury credentials, focused on guest room renovation. "We want to have the best hotel rooms in the region, and we believe that we're going to be achieving that," Town says, noting it's "a very unique and ambitious goal" given the scale of more than 2,000 rooms.
That investment comes on top of the S$4.5bn expansion agreement with Singapore authorities unveiled in April 2019, extending the casino duopoloy to the end of 2030 in exchange for each IR adding new amenities. It also immediately raised entry taxes by 50% and boosted gaming tax rates early this year.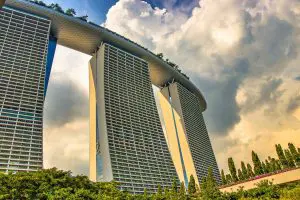 As Marina Bay Sands and the government settle "final details" on the expansion, site preparation is underway on the plot across the street south of MBS Tower One. Plans include a fourth hotel tower with about 1,000 rooms along with a 15,000-seat arena, more gaming space and "a very significant new amount of MICE," Town says.
"This property is full a lot of the time, so we certainly have hotel demand beyond the existing property. We have a lot of MICE already, it's true. Like I said, we see demand coming back strong."
He sees the new arena, supplanting the 33-year-old, 12,000-seat Singapore Indoor Stadium in its segment, as key to making Singapore and Marina Bay Sands more compelling regionally. "There isn't another one [like it] for about 4,000 miles. So we have that sort of scale and that style that will give us the opportunity to attract acts and entertainers into Singapore that have never really been here."
Using the project's internal designation, Town says, "The IR2 complex overall is going to feel a little bit more intimate and luxurious. I think that will flow through to the MICE, retail and food and beverage experiences." And, of course, the new tower will have its own rooftop swimming pool.
"People look at MBS and see us as a symbol of the ambition of Singapore," Town says. "So, when we talk about the next stage and what we're doing in this property now and what we're doing with IR2, we talk a lot about [how] we want to retain this iconic status, that the government sees it as very important, we see it as very important, and I think the people of Singapore see it as very important. So we certainly feel that burden on our shoulders, which is why we pay a lot of attention to how we develop the future."
Born in New Zealand and raised in Singapore until he was 15, Town says he now finds the same national sense of purpose he recalls from his youth. "This positive, ambitious commitment to high quality across lots of different sectors of the society, private sector, public sector... [there is] a very unified, collective, positive, 'we want to make things better here' [attitude] on a lot of different fronts. Things work really, really well, because you have so many facets of society with that approach," he explains.
"From our point of view, working with government is a very positive experience. We sit down and it feels like everybody's working towards the same thing. Working here at MBS with a primarily Singaporean team, we get to feel that same benefit, that positive spirit."