Tech Futures survey and report: Part one
This year's edition identified some discernible shifts in industry sentiments towards emerging and disruptive tech. In Part one, Josephine Watson explores which innovations are perceived as being most immediately transformative.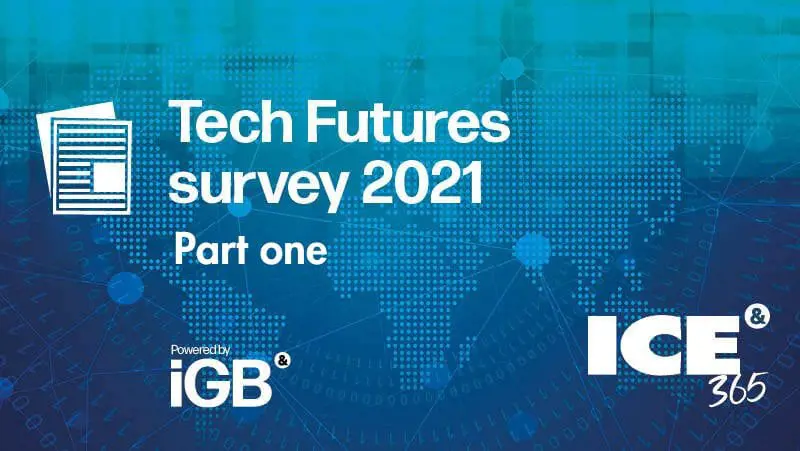 Following the success of our 2020 Futures Report, we returned to the industry 12 months on to regauge its sentiments towards five key disruptive technologies: blockchain, internet of things (IoT), virtual/augmented reality (VR/AR), artificial intelligence/machine learning (AI/ML) and edge computing.
Due to the broad scope of opportunity in AI/ML, this year we broke the technology into three business-critical use cases: strategic automation, personalisation and responsible gambling.
Adding a layer of insight to this year's findings were a panel of experts who joined our inaugural Futures Survey webinar last month. This was moderated by Chad Stender, partner, SeventySix Capital, who was joined by Lauren Seiler, managing director, head of strategy, global corporate development & investor relations at Four Wood Capital; Julian Buhagiar, co-founder of RB Capital; and Marcel Tobler, chief strategy officer at Grand Casino Baden.
Buhagiar neatly summed up the topline findings with his observation that: "We're seeing the death of buzzwords. Whereas 2019 and, to a lesser extent, 2020, were about ML and blockchain, we're actually seeing less of this. Most of that tech has become commoditised, and/or de-hyped.
"That's quite important because most of it was going to be fluff, to begin with anyway. If you're investing in tech, you're investing in a specific platform - AI/ML, or indeed blockchain, are just enablers to a bigger USP."
Tobler added: "Something that is holding back the industry to make quick use of new technologies and offers by startups is that there are too many operators on legacy platforms."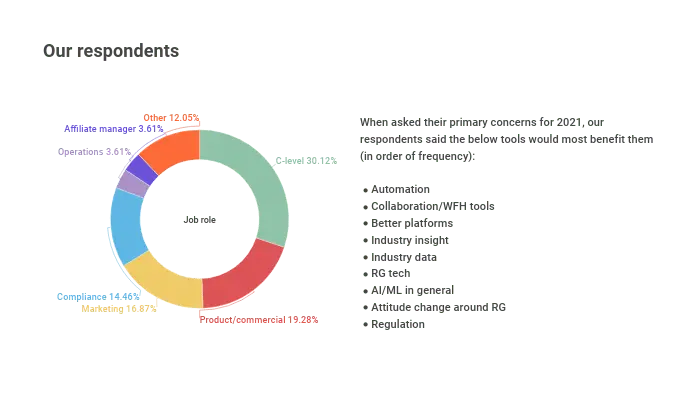 But dig a little deeper and these survey findings offer up a wealth of granular detail on how industry stakeholders perceive the applicability and relevance of these emerging technologies to their business and how they might shape the industry's future.
The opening section of this year's questionnaire asked respondents to choose up to three technologies that they see as most immediately transformative for the igaming industry.
In a similar vein to last year, the overwhelming majority saw the aforementioned AI use cases as most immediately transformative. Among these, personalisation was chosen by 52.9% of respondents, closely followed by strategic automation (51.8%) and responsible gambling (51%).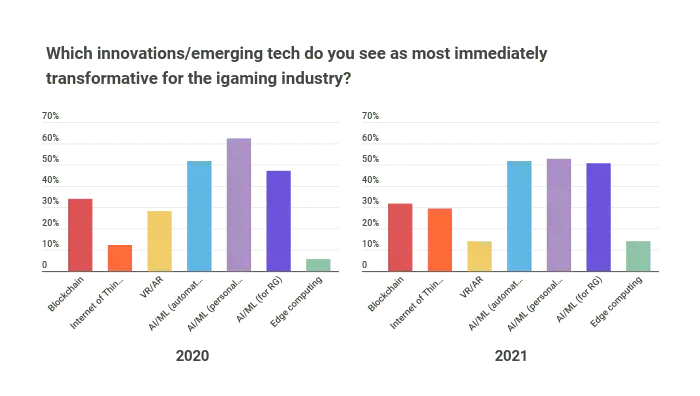 This perhaps comes as little surprise, considering the growing expectation in recent years that mass adoption and distribution of AI/ML technology is just around the corner. Indeed, many tools that leverage machine learning already exist in the industry, BetBuddy being a prime example, with its working capabilities to "identify and manage at-risk gambling behavioural patterns." Interestingly, the potential for transformation of each of these three use cases appears to be viewed more evenly than last year, where personalisation held a significant lead at 62.3%, followed by strategic automation (51.9%) and responsible gambling (RG, 47.2%).
"What we are looking at is automation to improve quality [as opposed to saving costs] specifically in the area of compliance. If we make a mistake in compliance, it can cost a lot of money in fines," Tobler said.
Indeed, the conversation around personalisation seems to be riddled with both a strong sense of urgency but confusion around the lack of case studies, Tobler argued.
"I feel like there is so little personalisation in the industry and I just don't understand why. There's so much potential around this topic and it will always be at the forefront of what can be done.
"I haven't seen great examples where AI is used to significantly improve personalisation, but I have seen some interesting projects in RG."
After AI/ML, blockchain was seen as the most immediately transformative technology by 31.8% of respondents, representing a marginal drop in interest on the 34% figure in our 2020 survey.
Seiler saw blockchain, typically a very buzzword-y technology, facing some serious implementation issues in the coming years. "I think that it's interesting, buzzy, exciting and here to stay, but from a gaming perspective you're going to start seeing some challenges come through the system - can you integrate it?" she said.
She also suggested that some demographics only just adapting to online gambling could be alienated by the technology: "When you're looking at your user base and you're trying to expand it, not contract it, you don't want to scare away certain demographics.
"Some of these more advanced technologies just might not necessarily translate as we look to the future. It doesn't take away from their utility, they just might not be the right fit for this space."
However, the trends in IoT, VR/AR and edge computing completely flipped when compared with 2020. IoT now had 29.41% of respondents seeing it as immediately transformative versus 12.26% in 2020 and edge computing jumped almost 10% from 5.66% in 2020 to 14.12% in 2021.
Buhagiar suggested the increased demand for IoT could be reflective of the rapid improvements in data extraction and processing power from the last 12 months: "Part of it can be put to good use - like problem gambling - but we're also starting to see specific plans in things like slot RTPs based on the processing power based on the interaction of the human interface with the slot machine."
He also predicted a bright future for edge computing: "One of the non-reported stories, particularly in gambling publications, is how incredibly powerful edge computing has become over the last 12 months."
With Buhagiar seeing real-world practical applications for quantum computing just on the horizon, he also predicted an uptake in applications for data-centric technologies, alongside risks such as DDoS attacks through AI and complex deep fakes.
VR/AR, on the other hand, dropped from being seen by 28.3% of respondents as immediately transformative in 2020 to just 14.1% in 2021.
A matter of education So, how has industry education on all five disruptive technologies evolved to reflect the interest in them? This year, we took a more focused approach to this question, asking respondents to select only one answer instead of choosing up to three.
In some cases, such as blockchain, opinion has remained much the same. Blockchain was by a fair margin the most-selected answer, with 27.1% of the view that the industry did not understand it or felt it irrelevant.
Knowledge of the AI/ML options seemed to be on the rise, however. With 9.41% of the vote, AI/ML for responsible gambling remained the most-selected of the three, while AI/ML for strategic automation and personalisation were each deemed either not understood or not relevant to the industry by 5.88% of respondents. These figures showed a clear improvement on the prior year.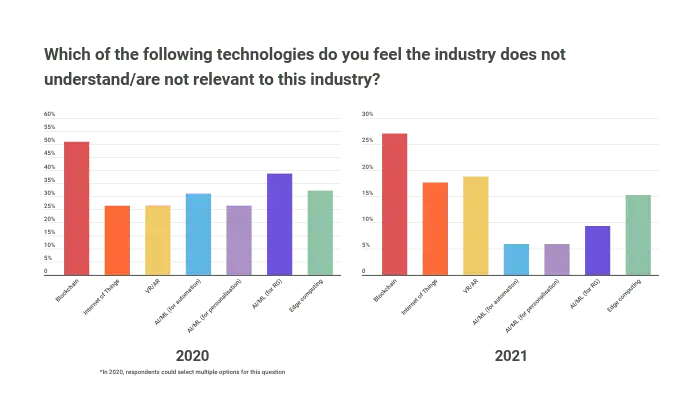 Where AI/ML and its use cases were previously relatively on par with all other technologies bar blockchain, there appears to have been a significant increase in understanding of them in 2021, as their standing as our three least-selected options shows.
Interestingly, the applicability and understanding of VR/AR seems to have worsened in the last year, as it narrowly edged out IoT (17.65%) to become the least understood technology behind blockchain at 18.82%.
The decline in VR/AR applicability came as no surprise to our panel of experts, with Buhagiar commenting: "VR/AR was always going to have a challenge in monetisation. The truth is, we've tried it, and it doesn't seem to be working much in gambling."
This year did however see a slight improvement in the understanding of edge computing and its applicability to the industry, with only 15.29% of respondents considering it irrelevant .
The home of innovation This year, we also delved deeper into the nature of innovation in igaming, asking our respondents for more insight into how they feel the industry will evolve its usage of technology.
Stender told the webinar audience that innovation was now a necessity and no longer an option: "You either innovate, acquire or get your butt kicked. If you're an entrepreneur, you're thinking about how you can create that solution that is going to need to get acquired.
"If you're the company, everyone's thinking, 'How can we continue to innovate, or what do we need to bring in?' You see examples stateside – Caesars buying William Hill in the US, then MGM and Entain falling apart. These deals can take a long time, well over a year, but may not come to fruition."
When asked how likely would it be for their company to attempt building an in-house solution using disruptive technologies, 30.6% selected "very likely", with 14.1% saying this was somewhat likely.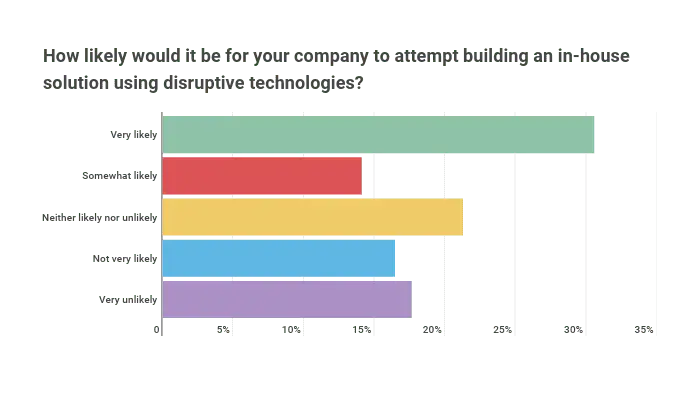 Referring to a recent project at Grand Casino Baden, Tobler said: "The reason why we built our platform was to have more freedom on what we want to integrate in the future. We believe there is a lot of potential out there - there are good ideas, and we want to be able to take those ideas, work with startups and integrate it into our B2C offering.
"It helps us to choose the startups we invest in. We ask ourselves, 'Is that promise to solve a problem working for us? Can we integrate it in the foreseeable future, will it add value on a regulatory side, a customer side, retention side?' If we can answer with yes, it's interesting. It doesn't need to solve all of the issues and problems in the igaming industry."
Following this, respondents highlighted which disruptive technologies they would most likely leverage in-house. 51.4% stated various use cases for AI/ML as most likely, especially for personalisation and automation of processes. VR/AR in-house solution potential stood at only 11.43% in comparison, followed by blockchain at 8.57% and IoT at 5.71%.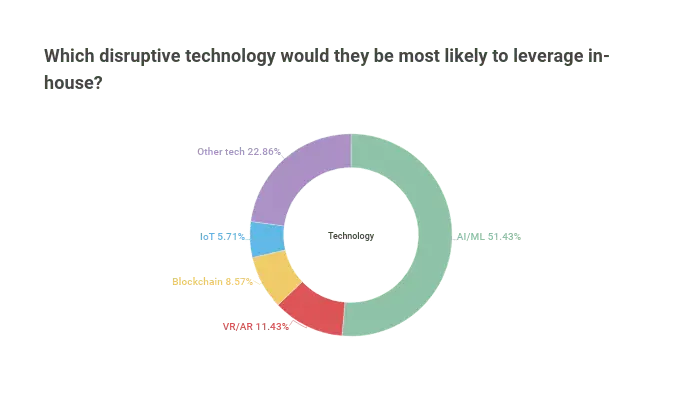 Seiler said: "From an investment perspective, our more overt focus is on things that help drive that consumer retention. There's a big question out there on whether you build it or buy it."
The remaining 22.86% of respondents focused more on other technologies such as facial recognition, data science and AML solutions.
In terms of how they would achieve such a development, using an agency was the most popular route for 34.62% of respondents, closely followed by 30.77% opting for the in-house approach. Others suggested M&A (26.92%) or a blend of approaches (7.69%) would best suit their company.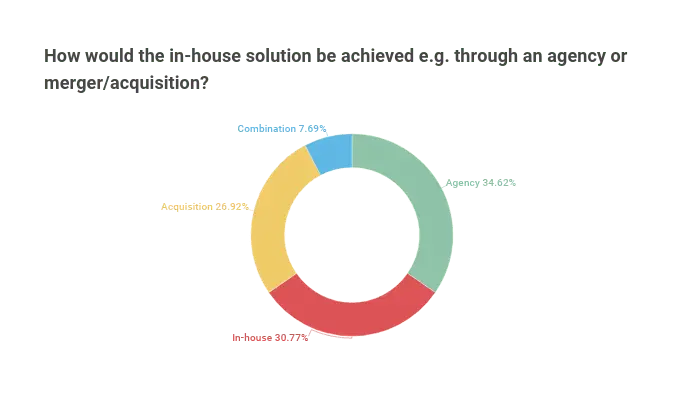 Buhagiar cautioned operators against internal innovation for the sake of it: "Don't use disruptive technologies for technology's sake unless you have a specific need for it. This then becomes the emerging trend that is necessary - to have rockstar product owners in your company to be able to carve the way out to the monetisation solution."
He added that technology is adapting and changing so quickly, that the investment cost of in-house development can far outweigh the returns: "There is a lot of good tech out there and startups that provide specific solutions. There are a lot of good libraries and open resources out there that you can plug into for a small fee. Don't try and build tech unless there's a clear, distinct absence of that outside.
One option for integrating and leveraging disruptive technologies is by working with more agile companies - namely, startups. 36.47% of respondents said their company would be very likely to work with a startup if it provided a complementary solution to its existing products and solutions, and 42.45% said they would be somewhat likely. Only 4.71% of respondents overall noted a negative attitude towards working with startups.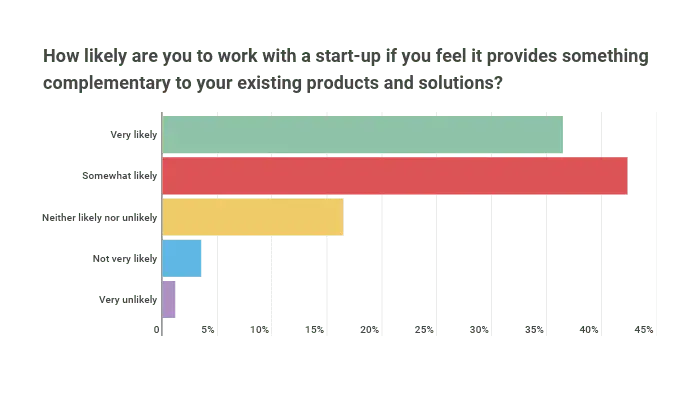 Next, we asked respondents to detail which igaming-compatible startups presented an interesting opportunity to their company. Among those mentioned were Future Anthem, a startup providing an ML solution striving to help customers grow responsibly through game data science, and Synalogik for its Scout product, which gathers, cleanses and analyses data in an automated way.
In Part two of the Tech Futures survey and report, we dive deeper into where our respondents see AI/ML having the greatest impact and the role of regulation in driving take-up of new tech.