States of play: US gaming regulation in 2021 and beyond
ICE365 brings together a stellar industry panel, sponsored by YouGov, to take stock following another year of rapid process in the US sports betting sector, and look ahead to 2022.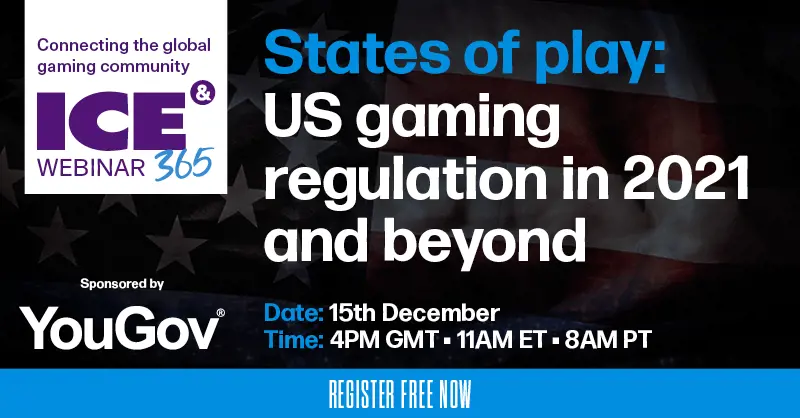 The market continues to grow, with more than 30 states either live or in the process of launching sports betting.
But the year hasn't been without its difficulties. The financial barriers to entry have become ever steeper, to the point that operators are questioning the rationale behind the cost of competing.

At the same time, the major media brands are taking an increasing interest in sports betting. The Walt Disney Company has said that it is a natural progression for ESPN, and with digital competitors such as Fanatics and DAZN preparing their own moves, a new breed of industry giants is set to emerge.
Watch this webinar to hear some of the industry's leading thinkers discuss…
How the US public views sports betting, featuring exclusive YouGov polling
Whether 2021's regulatory developments could herald a shift in legislative thinking
What the industry needs to do to realise returns from sports betting investment
Whether New York's mobile launch will herald progress in territories such as California and Texas
Speakers
Brendan Bussmann, Global Market Advisors, Moderator
Ayesha Khanna Molino, senior vice president, government affairs, MGM Resorts International
John Pappas, founder and CEO, Corridor Consulting
Stacie Stern, government affairs director, FanDuel Group
Brianne Doura-Schawohl, VP US policy and strategic development, EPIC Risk Management
Brandt Iden, head of government affairs, US, Sportradar, former Michigan legislator, sponsor of the Lawful Internet Gaming & Sports Betting Act
Oliver Rowe, global sector head, leisure & entertainment and director, reputation & business research, YouGov