Apollo's David Sambur on building a stellar investment portfolio
Alternative investment giant Apollo has made its presence felt in the gaming industry with a flurry of deals creating an impressive portfolio of assets in the sector. David Sambur, partner and co-head of its private equity business, explains the rationale to Robin Harrison.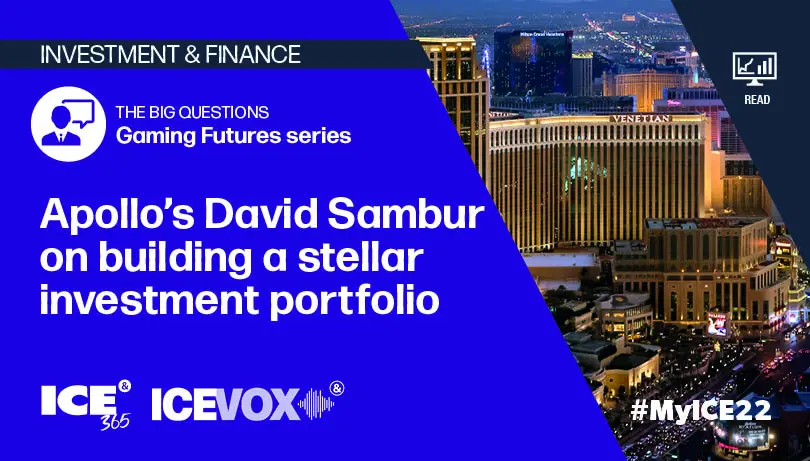 Over the past two years, Apollo has become a huge presence in the gaming industry. There was the CA$3.3bn acquisition of Great Canadian Gaming and subsequent appointment of industry leader Tony Rodio as CEO.
There was the €950m acquisition of International Game Technology's (IGT) Italian B2C operations Lottomatica, complementing a 2019 investment in Gamenet Group to create a major new player in the market. Not to mention interest in assets such as William Hill and Tabcorp's Wagering & Media business.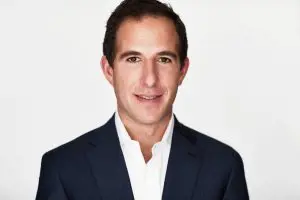 And then there was The Venetian. In March 2021, a transaction that would see Las Vegas Sands depart its home city was announced, with real estate investment trust Vici Properties acquiring The Venetian's real estate and related assets for $4.00bn, and the operations to funds controlled by Apollo for $2.25 billion.
As co-head of Apollo's private equity business, David Sambur is a veteran of its gaming investments, and he says its approach is a combination of strategic and opportunistic moves.
"While we have consistently invested in the gaming sector, I do think one of the things that drove a lot of the recent dealmaking was Covid-19 and the impact it had on the industry. We are able to take a long-term view of value, which makes us a good steward of assets during periods of market volatility" he explains.
"We're able to take a much longer-term perspective than the public markets may be willing to, so during periods of market volatility we can be good providers of liquidity," Sambur continues. "We saw tremendous value in these assets and there are a lot of exciting things we see as being possible with these companies because when it comes to both investing and allocating capital at a company level we have a longer time horizon than many other investors, including public market investors."
On the rebound
Las Vegas' recovery has certainly made the Venetian deal look like something of a masterstroke. In March, Nevada's gaming revenue came to $1.07bn, and at the time of writing (14 January) the state is on a run of nine consecutive months in which revenue topped $1bn.
The deal is still pending but Apollo is hopeful it will close fairly soon, Sambur says. And while he acknowledges that Vegas has rebounded strongly, it's the opportunities for the business that go beyond market recovery that are most exciting to him.
"We see a lot of opportunities to invest in the gaming and hospitality guest experience," he says. "That's one of the benefits that occurs when you carve an asset out of a corporate parent. Via this investment, we are solely focused on maximising the value of The Venetian. Therefore we will look to invest and optimise its property performance, whereas LVS or frankly any other large owner would view capital allocation through a broader portfolio lens."
This enthusiasm extends to Great Canadian Gaming as well which, as with all Apollo's gaming investments, sits as an individual company within its portfolio.
The operator is Canada's market-leading casino business, with 25 properties across Ontario, British Columbia, Nova Scotia and New Brunswick. "They have a fantastic footprint of assets and investing substantial capital in their business, particularly in the greater Toronto area," Sambur says. "We're very excited to support them in their growth ambitions and I feel Tony partnering with the existing management team is really going to take that business to the next level.
This will be overseen by Great Canadian's new chief executive, the former Caesars Entertainment, Tropicana and Affinity Gaming CEO Tony Rodio, whose appointment was announced alongside the deal's closing.
"We are very excited about Tony joining Great Canadian Gaming; we have a tremendous amount of respect for what he has done in a very illustrious career," Sambur says of the appointment, adding that the new CEO "brings a very unique perspective to that company".
Apollo's investments in the North American land-based sector come at a time when public market attention has largely been diverted by the rapid wave of gaming expansion sweeping the US. Sambur says the markets, being inherently forward looking, have retrenched "for a variety of reasons" over the past three to six months.
"The US market is very complicated; it's hard to think of it as one monolithic structure," he adds, however. "Experienced gaming investors look state-by-state and asset-by-asset to form a view and that's the perspective we bring, given our experience.
"I do think that there are going to be some markets that are negatively impacted on the brick-and-mortar side, both from the increased proliferation of brick-and-mortar gaming and the proliferation of online gaming. I think there will be other markets that have more value-add and as a result will be more insulated."
But looking forward or even looking back, there has been a "substantial" increase in gaming supply in all forms and sizes, which has and will continue to impact incumbents in the market.
Looking to online
That being said, Apollo remains open-minded to online gambling. Sambur notes that one of its 2021 investments, Lottomatica, is Italy's market leader for online sports betting. "We do have experience in online gaming and we are open-minded to it."
Its ownership of Gala Coral in Great Britain adds credence to this. Apollo took charge of the operator in 2010, and under its ownership has built its online business into "a real market leader", he says.
"That culminated with Coral combining with Ladbrokes, and the eventual merger of Ladbrokes Coral into GVC [now Entain]," Sambur adds. "We use that experience when we think about Lottomatica, for instance, and all the things management is doing to innovate and grow their business.
"All these experiences tie together and give us a particular amount of intellectual capital that we look to deploy in future situations."
Despite the Lottomatica deal coming at a time when regulatory conditions in Italy are seen in some quarters as worsening, through measures such as the advertising ban and rising tax rates, Apollo views the market very differently.
"Operating conditions in Italy have been fantastic, especially compared to other markets," he argues. "I think a lot of the western or Anglocentric investors have a fairly negative view of some of the southern European markets, particularly from the regulatory perspective, but our experience has been quite positive.
"We've been very happy with the regulatory environment in Italy, and the government has been a great partner to a lot of the companies over time and especially during Covid."
Europe vs the US
During this time, the business has performed strongly. In its most recent results, for the nine months to 30 September 2021, Lottomatica Group revenue was up 51.7% to €523.1m. The online division was bolstered by the IGT assets, with amounts staked online growing to €4.60bn, and revenue for the channel soaring 194.3% to €196.9m.
"The business has performed well," Sambur says of Lottomatica. "Clearly the brick-and-mortar side was impacted by Covid but that's no different than any other company operating with a physical presence in Europe or the US. Overall it has been a fantastic investment.
"And we've been very pleased with Italy. It was one of the fundamental underpinnings of the investment that we were investing in a market that has good growth, in a stable regulatory environment."
There is also the prospect of Apollo's experience of the mature European online markets being brought to bear in the US. Last year Apollo closed a $5.00bn deal to acquire Verizon Media's media and adtech portfolio, since renamed Yahoo, which counts Yahoo Sports among its assets.
Yahoo Sports, already an established name in fantasy sports, is an active participant in US sports betting through its partnership with BetMGM.
Other big names are taking a bigger role. Entertainment giants such as Endeavor are acquiring industry assets, and Disney CEO Bob Chapek last year described ESPN as "a perfect platform" for the entertainment behemoth to "seriously consider getting into gambling in a bigger way".
Yahoo Sports, "a real strategic asset in the sports betting and gaming ecosystem" in Sambur's eyes, is one of the few businesses that could compete on an equal footing with the House of Mouse.
"We are currently looking at ways to unlock the value of that asset, but when you think of it versus other assets that have been deployed in US sports betting, it's the second largest sports media asset, trailing only ESPN by a very small margin when it comes to monthly active user engagement," he explains.
"Depending on the time period, it's the number one or number two traditional fantasy sports player in the US, again compared to ESPN. It's the number three daily fantasy sports business behind DraftKings and FanDuel, but with a real opportunity to close that gap given some recent investments the company has made.
"I see this as a really substantial strategic asset within the US sports betting ecosystem, and given our experience in gaming in the US, it's something we're uniquely situated to optimise."
With an audience that vastly outstrips the sports betting market leaders, media giants such as Yahoo Sports have a highly engaged audience of fans and subscribers. The likes of DraftKings and FanDuel were able to parlay thriving daily fantasy sports business into real-money wagering, and these media businesses could do the same.
At a time when the market's growth phase sees billions pumped into advertising and acquisition, they could even do so at lower rates. That could give Yahoo a decisive edge.
"The ability to source new customers at attractive acquisition costs is a huge differentiator when you think of the financial performance of many of these companies," Sambur notes. "I do think Yahoo has a substantial advantage, even in comparison to some of the large incumbents, given the size and quality of its database."
The scope for the disruption is there, and Sambur predicts there will be many phases to the evolution of the US market as it shapes and matures. How that happens remains hard to gauge, however – the nature of the US, and the state-by-state rollout of regulation, makes it a unique proposition.
To Sambur, looking at the European experience "is helpful but not particularly dispositive in all scenarios".
"I think the state-by-state market access and the regulatory environment is vastly different from the UK, for example, where many of the companies have done well," he says. "You have to remember that is one country with one regulatory environment.
"Other than Flutter and Entain, you haven't seen anyone have a monolithic pan-European market leadership position," he explains. "The structure of the US market is going to lead to differences in terms of which companies wind up being the leaders."
What could prove decisive to prevailing in the US? "I think having a national brand is a huge source of efficiency. Having a national user base which you can market to is a big advantage," Sambur continues. "[But] you also need various other ingredients including a very strong product, good technology and strong market access. All of these things go into the mix to make a successful competitor."
Scale and consolidation
While investments such as The Venetian and Great Canadian are particularly eye-catching, the Lottomatica deal and Apollo's backing of Sazka Group show the business looks far further than North America. It has a "global lens" Sambur says, and is scouring the global markets for opportunities.
"I'd say the themes that excite us the most are scale and consolidation and the ability to invest in improved products that customers value," he says. "Those themes underpinned the Lottomatica investment, where we bought Gamenet in a public to private transaction, then merged that asset with Lottomatica, which we bought from IGT. Growing the scale and cash flow of the business provides more capital to invest to improve the product and improve the Lottomatica's market share.
"I think that's a similar theme to what you're going to see with Great Canadian in Canada, and to a certain extent with The Venetian in Las Vegas as well. Any time we can see the opportunity to acquire a quality asset and invest capital to improve it and to make a return on that capital, we're going to be pretty excited."
In particular he sees especially interesting opportunities in the US and Europe, though other parts of the world offer other options for Apollo. And over the years, it has developed a strong track record in the sector. Sambur points out that experience in any industry allows financial investors to be more strategic.
"I think that's certainly the case in the gaming industry," he says. "On top of that, the other thing we like quite a bit is the highly regulated nature of gaming, which makes that experience all the more valuable.
"I think our experience and comfort level in investing in all different jurisdictions with their own idiosyncrasies allows us to spot trends and see value where others might miss it."
It could be argued that the recovery of Las Vegas over 2021 and subsequent events, such as properties in the city changing hands, or even other Strip operators looking to rethink or reshape elements such as loyalty programmes bears that out.
Even its Lottomatica investment, at a time when southern European markets shift from being viewed as tricky propositions to growth markets by western European operators, adds to this.
It's clear the industry should be watching with interest to see what Apollo invests in next.
Main photo courtesy of The Venetian Resort® Las Vegas