Tribal gaming has been a huge success since the passage of the Indian Gaming Regulatory Act (IGRA) in 1988. Now the sector, and the tribes involved, face a number of big decisions over how they engage and evolve amid the current wave of gaming expansion, writes Gene Johnson of Victor Strategies.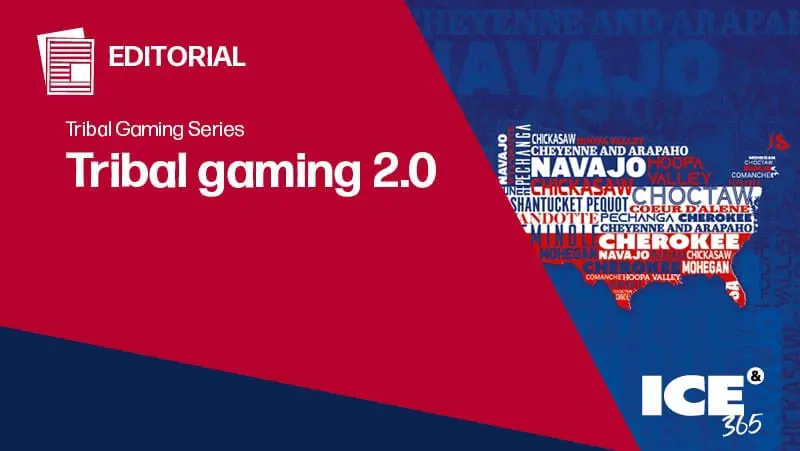 Origins
Tribal government gaming became possible after passage of the Indian Gaming Regulatory Act (IGRA) was passed in 1988.  Even then, establishing a Tribe's right to conduct gaming operations under the new law was often a difficult and costly struggle.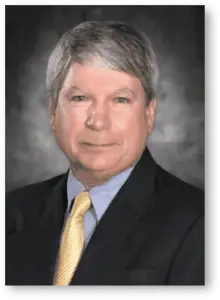 At the time, few could have envisioned what this industry would become today and the many ways that it would serve to sustain tribal communities.
IGRA reflected the relationship between the federal and tribal governments that has existed since the Revolution, when the United States assumed the former role of the British monarchy in establishing treaties with the Indian nations.
However, while the federal government now allowed tribes to conduct Class II gaming independently under IGRA, in order to operate Class III casino-style slots and table games, tribes would have to negotiate a compact with the state government in which their reservations were located. Thus, the path to casino gaming was not a smooth one but a journey featuring many twists and turns.
IGRA was not a gift. In fact, the Bureau of Indian Affairs (BIA) and US Senate deliberations which led to IGRA were driven by complaints at the state level. The act constituted an effort to regulate and contain the high stakes tribal bingo operations being run most notably by the Seminoles.
The 1987 Cabazon decision clarified tribal regulatory authority and prepared the ground for IGRA.  1988 Indian Gaming Regulatory Act provided a remedy for Johnson Act restrictions on slot machines through the vehicle of a tribal-state compact.  Soon after, the state of Minnesota signed the first state gaming compacts and other tribes began to follow.
Growth
Tribal gaming expanded rapidly during the 1990s and the first half of the next decade. This growth coincided with simultaneous expansion of the commercial gaming industry and state lotteries as gambling became available in more and more US states.
The growth in Indian gaming revenues, illustrated in the table below, began to slow after 2005 and were impacted by the Great Recession in the late 2000s, but positive growth continued afterwards largely spurred by existing expansions and land taken into trust. Today tribal government gaming is a $35bn industry with that revenue being generated by 524 domestic gaming operations located in 29 states and owned by 245 of the nation's 574 federally recognized tribes.
Indian gaming has also continued to expand by moving off the reservation and competing in commercial markets in states that have no compacted tribal gaming, including established operations in Indiana, New Jersey, and Pennsylvania, and proposed casinos in the US and overseas.
Most importantly, these gaming facilities represent regional economic engines, generating $105bn in total economic output according to the most recent measurement of 2016 data by Meister Economic Consulting.  The great majority of net revenues are dedicated to tribal services which allow economic independence while the wider economic uplift benefits the wider regional community.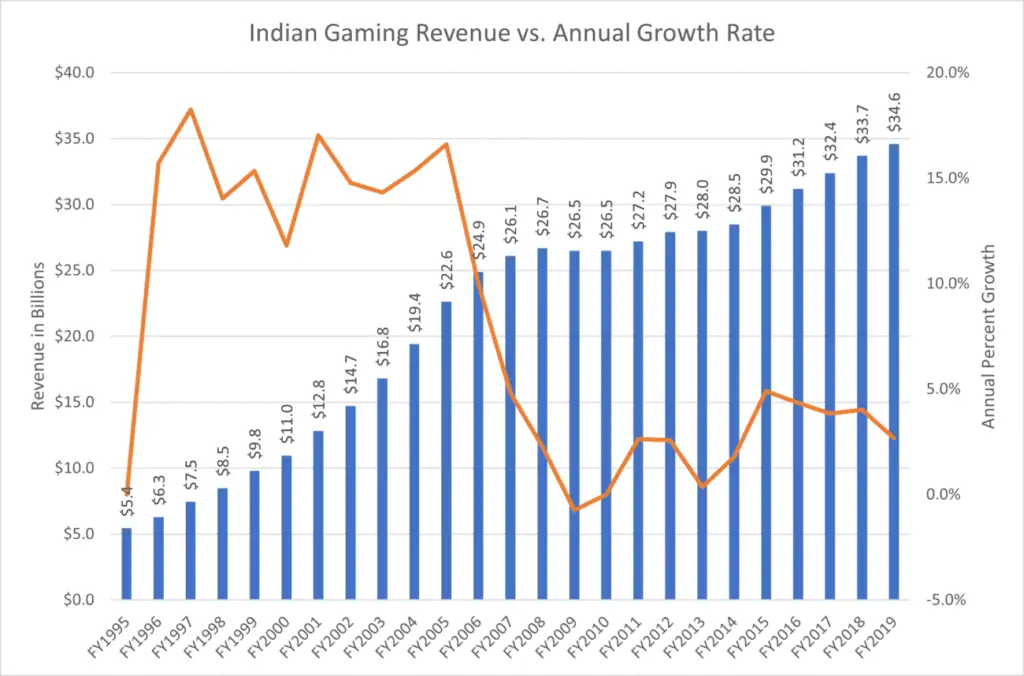 Indian Gaming 2.0
Tribal government gaming now stands at the threshold of a new era of expansion fueled by technology and the availability of new gaming products. Principal among these new products is sports betting, which is no longer prohibited since the Supreme Court struck down PASPA in 2018.
Sports betting legalisation has highlighted both opportunities and threats to Indian gaming operations.
The opportunities are evident in acquiring a new gaming vertical which is highly resonant with casino gaming but brings in an almost entirely new and younger demographic.
However, legalisation of sports wagering across half of US states has also opened the door for new entities to enter the gaming space including professional sports teams, stadium owners, media companies, state lotteries, former offshore operators, and even payday loan providers. The legislative efforts to include these new entities often challenge tribal sovereignty and gaming exclusivity.
The rollout of sports betting in Indian Country has followed a variety of regulatory models including commercial operations in states like Michigan, New Jersey, and Pennsylvania, operations under state compacts in Connecticut, New Mexico, New York, North Carolina, and most recently, Arizona. Retail sports betting operations are an easy assimilation for traditional land-based casinos but the real money in sports betting is generated by mobile/online operations and here acquiring the capability becomes much more complex, both legislatively and operationally.
Regarding the legislative complexities, an appropriate example is the recent mobile wagering legislation in New York, the fourth largest US sports betting market. It appears to defy logical analysis and in its present form may eliminate the regional exclusivity granted tribes in the 2013 gaming expansion law.
Another example is Arizona, where legislation granted the tribes long sought-after expansion opportunities but at the price of some degree of gaming exclusivity illustrating the influence of the leagues. Washington State tribes successfully defended their sports betting exclusivity last year in the face of a legislative challenge from card rooms.
The landmark agreement in Connecticut, which will allow the Pequots and Mohegans to conduct sports betting and igaming under state compact, was a multi-year process with enough plot twists for a Netflix series. Operational complexities and the importance of choosing the right platform partner are another story too long for this brief article.
Sports betting legislation newly proposed in Texas, the second largest state market, does not even mention the three tribes struggling to operate Class II casinos in the state but has been written to provide the greatest benefits to team owners. California and Florida, the first and third largest state markets, both have powerful gaming tribes that will zealously protect their interest and expectations lean towards future sports betting legislation which would be expressed through tribal operators.
The history of Indian gaming has been a successful one of tribes struggling to assert their rights and sovereignty as independent governments existing within the United States. The future of Indian gaming remains a very bright one but to achieve the full potential of new interactive wagering verticals tribes will need to fight for their rights to fair treatment and carefully assess their relationships with state governments and new market entrants.
Situations like the one in New York have resulted in calls to explore an update to IGRA, a law written down before the Internet existed, to regulate mobile tribal gaming operations.
Meanwhile, with all the chatter around sports betting, little attention has been paid to igaming, an interactive vertical almost twice as profitable as sports wagering which has been operated by tribes in New Jersey and Pennsylvania for years. It is now coming online in Michigan and will soon be operated under compact by two tribes in Connecticut.  Stay tuned for the next expansion era for Indian Gaming.
Now you've read Gene's thoughts, have your say through the Tribal Gaming Survey. This project sees ICE 365 collaborate with Pechanga.net, to gather opinions from tribes on the future of their gaming industry. It's open to all tribal gaming operators, so share your thoughts here.
Gene Johnson has more than 30 years of unique experience in the gaming industry. He began working in Atlantic City casinos in 1989 and has held executive positions ranging across the areas of MIS, Quality Assurance, Market Research, and Strategic Planning & Analysis.
In 1997 he founded EE Johnson Research, a marketing research and consulting firm specializing in the casino industry and providing market and customer research with a special focus on technology as well as gambling motivation and behavior. Mr. Johnson has since held senior positions at Spectrum Gaming Group and Gaming Knowledge Partners. In 2016 he co-founded Victor Strategies with partners Rob Miller and Victor Rocha. Victor Strategies is a unique professional firm providing expert advisory services and critical business insights to the gaming industry with a particular focus on Indian Country. V-S provides clients with policy and business strategies along with market research and analysis essential for informed decision making and effective operations.
Over his career, Mr. Johnson has managed and conducted numerous qualitative and quantitative studies with gamblers of all types, as well as extensive consumer research for a broad array of corporate, government, and non-profit clients. Mr. Johnson has testified before the U.S. Senate, the Federal Trade Commission, and before multiple state, territorial, and tribal governments, has written articles featured in many industry publications and speaks regularly at major gaming industry conferences on a wide range of subjects.